LASIK
---
LASIK
LASIK (Laser-Assisted in situ Keratomileusis) is the most popular method in the world to repair eye refraction (Myopia, Presbyopia, or Astigmatism). The LASIK surgery is performed by an ophthalmologist who uses a laser or microkeratome to reshape the eye's cornea in order to improve visual acuity. For most patients, LASIK provides a permanent alternative to eyeglasses or contact lenses
LASIK was first introduced in Indonesia by JEC in 1997. And until 2015, JEC has conducted nearly 30,000 LASIK procedures with a keep evolving technology.
Before introducing the LASIK procedure to Indonesia, JEC has provided Photorefractive Keratectomy (PRK) procedure since 1993, as a procedure for correcting minus cylinder in the eye, by reshaping the surface of the cornea. Along with the development of technology, this action is not much conducted anymore except in special cases such as the thin cornea.
LASIK action is suitable for everyone who needs a practical appearance to support the dynamic activity, because LASIK action will eliminate dependence on glasses or contact lenses.
Terms for LASIK Candidate
Age 18 and over
Both eyes must be healthy
Removing soft contact lens for 14 days or a hard contact lens for 30 consecutive days prior to LASIK action
Not being pregnant or breastfeeding.
Due to the differences in the conditions of each person, it is advisable to consult with our ophthalmologists team at JEC, which has handled nearly 30,000 LASIK surgery.
LASIK Steps
The first step is to create a layer on the cornea (flap), this stage was originally used the technique Mikrokeratom (Blade), where the flap is made manually with a very small surgical instrument. The process of making the flap is then developed using Femtosecond Laser, also called Bladeless Laser Surgery. JEC has been using this technology since 2006.

Currently JEC uses 3 types of femtosecond LASIK technology. Intralase 150 kHz first used by JEC in 2006, Ziemer 2500 kHz in 2008, and the latest femtosecond technology; Ziemer crystalline 5000 kHz since 2012 and Z2 Lasik since 2013.

The second stage is the laser irradiation at the inside of the cornea to reshape the cornea after a flap is open. The aim is to eliminate refractive error (minus, plus, and cylindrical) with Excimer Laser. Excimer Laser aims to establish a new corneal surface. JEC currently has 2 machines Excimer Laser ie Allegreto Wavelight EX500 and 7D Schwind Amaris 1050sHz.
After irradiation is completed, the flap is returned to its original position. In less than 3 minutes flap will cling by itself without the need for stitches. This procedure entirely uses advanced technology with a very high degree of accuracy. LASIK without Knife Surgery (Bladeless Laser Surgery) produces a very smooth surface, thus improving the quality of vision
JEC also the pioneer who introduced the Femtosecond Laser technology in Indonesia. Femtosecond Laser is an infrared ray with more accuracy than other laser technologies. The Femtosecond Laser can cut with a very low level of heat, and work in ultra-short impulses light which able to make a hole as small as 1 / 100mm in just 1/4 trillion per second.
The Femtosecond technology was introduced by JEC in 2006 with the Intralase 150 kHz, and in 2008 the machine was upgraded to a more advanced Fentomsecond Laser Ziemer 2500 kHz.
In 2012, JEC adds the Ziemer CrystalLine 5000 kHz. With the availability of the advanced technologies in JEC, has made JEC as the most complete and advance LASIK service in Indonesia today. These technologies made the LASIK procedures at JEC to become more efficient, faster, and more comfortable. Suitable for everyone who already 18 years old and over, who are active and wish their activities not getting impeded by glasses or contact lenses. Of course, LASIK is also suitable for seniors who are still active generation activity.
Here is the available LASIK Service at JEC.
CoZi LASIK
JEC started to utilise CoZi Lasik from 2008. CoZi Lasik is an improvement from the IntraLASIK. The technology was produced by the Ziemer Group, a Swiss-based multinational company with great reputation in the Ophthalmology field, the technology already approved by the US Army, US Navy, US Air Force, Marine Corps and NASA improve eyesight.
7D LASIK
7D Z-Lasik is the fastest LASIK technology today. This technology utilized to removing minus, plus, and astigmatism conditions on our eyes with higher accuracy and improved safety level from the previous technology.
IntraLASIK
Was first conducted in Indonesia in 2006 by the JEC. LASIK without a scalpel using Intralase Femtosecond Technology (IFS) at 150 kHz combined with the German technology machine; Allegretto Wave 400Hz EyeQ (Excimer Laser) which is the world's fastest LASIK machine in during the era. Currently, the JEC had upgraded IntraLASIK technology with the latest technology.
The difference between CoZi LASIK and IntraLASIK
| | | |
| --- | --- | --- |
| NO | CoZi LASIK 5000 KHz | IntraLASIK 150 KHz |
| 1 | A more flexible and comfortable docking procedure. | A less comfortable docking procedure. |
| 2 | Not leaving any mark. | Still leave a mark |
| 3 | More precise and more stable irradiation by the excimer laser irradiation on the cornea surface | The first generation of the femtosecond technology. (Bladeless LASIK Surgery) |
| 4 | Recommended by US Army, US Navy, US Air Force, Marine Corps dan NASA. | Recommended by NASA dan US Air Force |
LASIK XTRA
LASIK Xtra is a procedure performed after LASIK action to bind collagen fibers in the cornea, to increase the strength of the cornea. This action is intended for patients with the weak or thin cornea to reduce the risks after the LASIK procedure.
The LASIK Xtra procedure usually performed thirty seconds after the regular LASIK procedure is completed, to improve the durability of LASIK correction in patients.
The process of LASIK Xtra
Doctors shed riboflavin (vitamin B2) on the cornea.
The riboflavin soaked area of the cornea then irradiated with ultraviolet light A (UVA)
Light will bind (cross-links) the collagen fibers in the cornea, build a more powerful cornea and lock the result of LASIK action.
The LASIK Xtra procedure can also be done even if the action LASIK has been performed several years earlier. Your doctor will probably give advice about this procedure if deemed necessary.
No-Touch LASIK
If the patient's eye minus condition is above 14 or been diagnosed with the thin cornea (below 500 microns), then usually the ophthalmologist will suggest the No-Touch LASIK procedure. With the No-Touch LASIK, the whole ablation process is done digitally without any equipment touching the surface of the cornea.
Microkeratome LASIK (M-LASIK)
JEC also the pioneer in utilizing Microkeratome in Indonesia in 1997. The microkeratome is a microsurgery procedure using a very small scalpel, to make an 83-200 micrometer-sized flap on the cornea. Our cornea, usually between 500-600 micrometers thick (1 micrometer = 0.0001 centimeter)
Advanced Surface Ablation (PRK, LASEK dan EpiLASIK)
Some patients with a thin cornea condition, usually not recommended for the LASIK procedure. They usually suggested undergoing Surface Ablation to correct the refractive problem.
Advanced Surface Ablation is an effective technology to correct eyesight by utilizing a laser. The technology will fix the minus, plus and astigmatism with a very minimal touch to the eye's surface. The technology is also known as Photo-Refractive Keratectomy.
You'll be suggested to undergo this procedure if:
Your cornea is too thin.
Your eyes were relatively dry.
Athletes with many body contacts, like boxing, wrestling, etc
The result for Advanced Surface Ablation is as good as LASIK in the long term. But the healing process usually took longer. During the healing process, ophthalmologists usually suggesting the use of contact lenses. The lenses will be put on and put out by the doctor, so the patient doesn't need to touch the contact lenses.
Always consult each of your conditions with the ophthalmologist's team at JEC for comprehensive information about procedures that'll fit your condition.
Keratoconus eye condition.
Crosslinking
Crosslinking is the primary procedure to improve the condition of patients with Keratoconus.
Keratoconus terms taken from the Latin, kerato (cornea) and Conus (horn or cone). If the condition is already in an advanced state, the shape of the patient's eyes will look like a cone when viewed from the side. Because of the abnormalities of the shape of the eyes, the vision, of course, will be disrupted.
The symptoms are mostly similar to symptoms of other visual disturbances, such as blurred vision or excessive glare. Therefore, you should consult your doctor at JEC if you experience any interference with your vision.
Keratoconus can be caused by various things, one of which is due to an enzyme imbalance that weakens the corneal tissue. Also caused by excessive direct UV exposure. Keratoconus conditions generally can be repaired, or to inhibit the process by strengthening ties through the action of collagen crosslinking.
Patients with the Keratoconus condition can not undergo the LASIK procedure. Always consult your visual health to the JEC. The doctors are always committed to providing you the best assistance for your vision, then do not hesitate to consult to improve the quality of your life.
7 Dimension Z-LASIK
---
JEC is the pioneer of LASIK surgery in Indonesia, and provide comprehensive technology, such as LASIK Xtra, Z2 LASIK, M-LASIK, and Surface Ablation (No Touch LASIK, PRK, LASEK, and EpiLASIK). Recently JEC has added the latest, cutting edge technology, the 7 Dimension Z-LASIK (7D Z-LASIK).
7D Z-LASIK is an innovating system using a high speed excimer laser (1050Hz) collaborated with a Ziemer Crystalline 5000 Khz machine (Femtosecond Laser). This combination gives 7D Z-LASIK the highest speed among all types of available excimer laser in the world today.
Normally, our eyes are regularly having an involuntary movement of 90 micrometer per millisecond, in all directions. Hence, the constant, exact focus of the eye's position is very important when performing a laser process using LASIK. Since that 7D Z-LASIK by using the Latency-Free Tracking system, is capable to tracing the 7 dimensions of eye involuntary movement during the LASIK process,. This system is able to shoot the excimer laser without delay (zero latency time), following regular eye movement.
With its ability, this 7D Z-LASIK is able to fix refractive eye conditions such as minus, plus and cylindrical in a very short time; only 1.3 seconds per diopter. This ensures that 7D Z-LASIK can provide maximum safety and automatically increases patient comfort.
Moreover, since the commencement of Laser Refractive surgery in 1994, JEC' doctors has experience in optimizing the eye's refractive ability in more than 5500 patients, which resulted that 98% of patients who underwent a LASIK procedure have no longer require, the need of using spectacles or contact lenses to be able to see things clearly.
LASIK technology has been approved by leading institutions in the world, such as the US Army, US Navy, US Air Force, Marine Corps and NASA.
Candidate requirements for LASIK:
Patient must be 18 years or older.
Both eyes must be in healthy condition.
Soft contact lenses must be removed 14 days before the LASIK procedure. Hard contact lenses 30 days before the procedure.
Patient cannot be pregnant or be breastfeeding.
Procedural stages of LASIK
The first stage is to make a flap in the cornea using Femtosecond Laser* technology (Bladeless Laser Surgery). At JEC the flap is made using a Ziemer Cristalline 5000Khz. The advantage using the Ziemer Cristalline 5000Khz is that the flap-cutting process is faster and more precise with lower energy usage, resulting in a smoother incision.
The second stage is after the flap is open. The lighting focus of the laser on the inner part of the cornea changes the cornea's shape. The purpose is to eliminate the refraction abnormality (minus plus and cylindrical) by using the Schwind Amaris 1050Hz Excimer Laser. The Excimer Laser is used to shape the cornea's new surface.
After the laser treatment is done, the flap is repositioned.
In less than 3 minutes, the flap will attach to the cornea by itself, without the need to be sutured.
Image 2 : Stages of LASIK procedure
*Femtosecond Laser is an infrared light with the ability of cutting very accurately, compared to other technologies, using very little heat. The Femtosecond Laser works giving ultra-short pulses of light, and can make 1/100mm holes in only 1/4triliun per second (www.lasik-center.com)
Why choose LASIK in JEC Eye Hospital?
A doctor has to make many decisions in a short time, using the LASIK procedure. That is why it is so important and sensible to entrust the LASIK procedure to an experienced eye care centre with comprehensive facilities.
As the pioneer of LASIK surgery in Indonesia, JEC has experiences which no other LASIK service provider has. For example:
JEC has a professional team of ophthalmologists and paramedics with experience serving more than 27.000 LASIK patients since 1997. This number is far beyond other LASIK service providers.
98% of our patients, treated using a LASIK procedure, no longer need to use spectacles or contact lenses to be able to see clearly.
LASIK procedure is done based on international standard hospital safety and uses the latest generation of LASIK technology.
No need to wait for a long surgery schedule because JEC has a comprehensive team and facilities, which can accommodate for LASIK surgery every day.
Comprehensive pre-operative examination uses extensive and accurate diagnostic tools, so that any eye anomaly can be detected with precision.
Our experience as pioneers has earned JEC the MURI record as the eye care provider who has performed the most LASIK procedures in Indonesia, as well as the achievement of the pioneer of LASIK in Indonesia.
Feel free to contact the JEC Call Center (021) 2922 1000 right away, or make a consultation appointment via our JEC website.
For information on our 0% credit card LASIK installment plan please visit jec.co.id
For information about LASIK with credit card 0%, can be accessed in jec.co.id
ReLEx® SMILE
---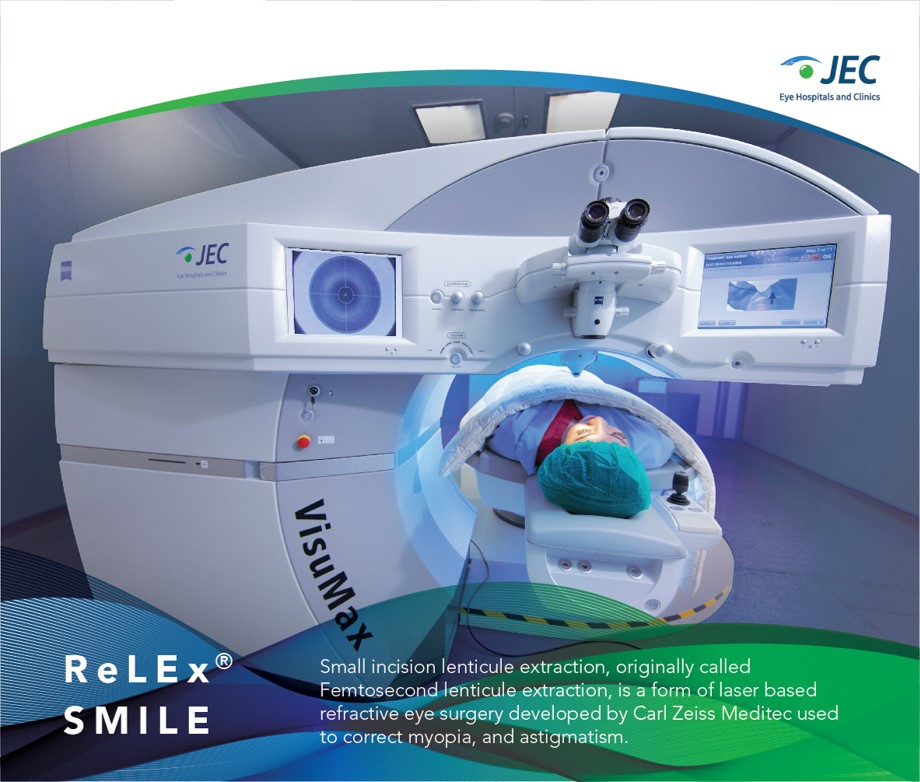 Mata adalah jendela dunia, otak manusia memperoleh 83% informasi melalui indera penglihatan tersebut. Memiliki penglihatan yang baik untuk dapat melihat indahnya dunia yang penuh warna serta berbagai bentuk yang unik adalah dambaan semua orang. Hanya saja, hal tersebut tidak selalu dimiliki setiap orang, mengingat ada beberapa individu yang mengalami kelainan refraksi (minus, plus, dan silinder).Sebagian besar dari kita bergantung pada kacamata atau lensa kontak untuk melihat lebih baik. Namun ketergantungan pada alat bantu optik tersebut dapat mengganggu aktivitas sehari-hari, terlebih bagi yang memiliki aktivitas luar ruang yang banyak.
Laser Vision Correction Center
JEC sebagai pionir bedah korektif tiap kelainan refraksi tersebut kembali menambahkan teknologi termutakhir, yaitu ReLEx® SMILE (Refractive Lenticule Extraction - Small Incision Lenticule Extraction). ReLEx® SMILE adalah merupakan inovasi dari Carl Zeiss dengan menggunakan mesin VisuMax® Femtosecond Laser untuk mengoreksi kelainan refraksi.
Kehadiran ReLEx® SMILE semakin memantapkan langkah besar JEC untuk mendirikan Laser Vision Correction Center pertama di Indonesia. Sebelumnya JEC telah memiliki teknologi terlengkap dalam menghilangkan ketergantungan pada kacamata atau lensa kontak dengan berbagai pilihan teknologi, seperti Femtosecond Z-LASIK (7D Z-LASIK atau Z2-LASIK), LASIK Xtra, No Touch LASIK, M-LASIK dan Surface Ablation (PRK, LASEK dan EpiLASIK). Kini, langkah besar JEC tersebut semakin sempurna dengan kehadiran ReLEx® SMILE.
ReLEx® SMILE
ReLEx® SMILE merupakan teknik terbaru untuk menghilangkan kelainan refraksi (minus & silinder) tanpa pembuatan flap (flapless), Hal tersebut meminimalisir risiko pergeseran flap atau flap displacement sehingga tindakan ini relative aman (safer). Prosedur ini dikerjakan hanya dalam satu kali proses laser dan otomatis membuat proses waktu tindakan ReLEx® SMILE menjadi relatif lebih cepat, tercatat bisa diselesaikan hanya dalam hitungan detik (faster). ReLEx® SMILE memberikan kenyamanan setelah tindakan tanpa rasa sakit (painless).
ReLEx® SMILE JEC tentu saja bisa menjadi alternatif bagi Anda yang ingin melihat dengan benderang tanpa memerlukan kacamata atau lensa kontak lagi. Terlebih lagi, keamanan maksimum dan kenyamanan pasien menjadi prioritas JEC.
Cara kerja ReLEx® SMILE?
Syarat dan Kandidat ReLEx® SMILE
Berusia 18 tahun ke atas,
Kedua mata harus dalam keadaan sehat,
Ukuran minus atau hasil kombinasi antara minus dengan silinder mulai dari S-3 diopter hingga S-10 diopter,
Tidak sedang hamil atau menyusui,
Melepas soft contact lens selama 14 atau hard contact lens selama 30 hari berturut-turut.
FAQS
Siapa saja yang cocok untuk tindakan ReLEx® SMILE ?
Tindakan ReLEx® SMILE ini sangat tepat untuk individu yang memiliki mobilitas tinggi, aktif, dinamis dan berkecimpung di dunia contact sports seperti tinju, olahraga selam, taekwondo, dan lainnya. Dengan prosedur flapless pada ReLEx® SMILE, menjadikan pasien tidak rentan dengan trauma pada mata.
Perbedaan ReLEx® SMILE dengan LASIK?
LASIK memiliki dua tahapan dalam menghilangkan kelainan refraksi. Pertama, dengan pembuatan flap di lapisan Storma kornea menggunakan femtosecond laser. Kedua, setelah flap dibuka, dilakukan tindakan ablasi jaringan Stroma yang sesuai dengan ukuran kelainan rekfraksi dengan excimer laser untuk menghilangkan minus/silinder, kemudian flap ditutup kembali.
Pada ReLEx® SMILE, femtosecond laser bekerja langsung di dalam lapisan Stroma kornea untuk membentuk lenticule sesuai dengan ukuran kelainan refraksi. Lalu sinar laser tersebut membuat sayatan kecil sekitar 2-4mm untuk jalan mengeluarkan lenticule.
Apa saja efek samping dari tindakan ReLEx® SMILE?
Pada dasarnya tiap tindakan operasi memiliki risiko. Namun, tindakan laser vision correction umumnya aman dan memiliki risiko yang rendah. Diskusikan dengan dokter mata di JEC untuk mengetahui lebih lanjut keuntungan prosedur laser vision correction bagi Anda. Laser Vision Correction Center JEC, yang telah berpengalaman mengatasi kelainan refraktif mata (minus, silinder, plus) lebih dari 30.000 pasien sejak tahun 1992.
Berapa lama penglihatan akan kembali stabil setelah tindakan ReLEx® SMILE?
Proses penyembuhan dapat berbeda di setiap individu. Pada kebanyakan orang, tajam penglihatan akan sangat baik & stabil pada 1 – 3 hari pasca tindakan. Setelah tindakan ReLEx® SMILE, Anda dapat mengendarai kendaraan, bekerja & beraktifitas fisik seperti biasa tanpa menggunakan kacamata atau lensa kontak.
Dimana Saya bisa menjalankan prosedur ReLEx® SMILE?
Tidak perlu jauh-jauh ke luar negeri untuk mengkoreksi kelainan refraksi Anda dengan metode ReLEx® SMILE. Kini Anda bisa melakukannya di RS. Mata JEC yang selama bertahun-tahun berdedikasi terhadap kesehatan mata.
Our Care Team
Head Of Services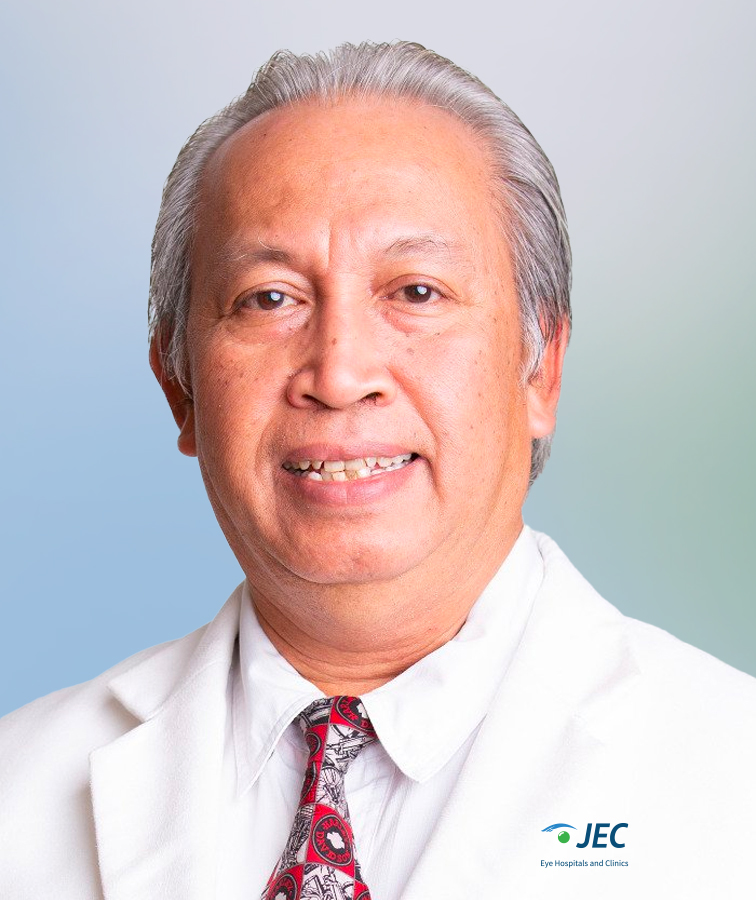 DR. Dr. Setiyo Budi Riyanto, SpM(K)
Cataract , LASIK , Cornea , ReLEx SMILE
Member of Services