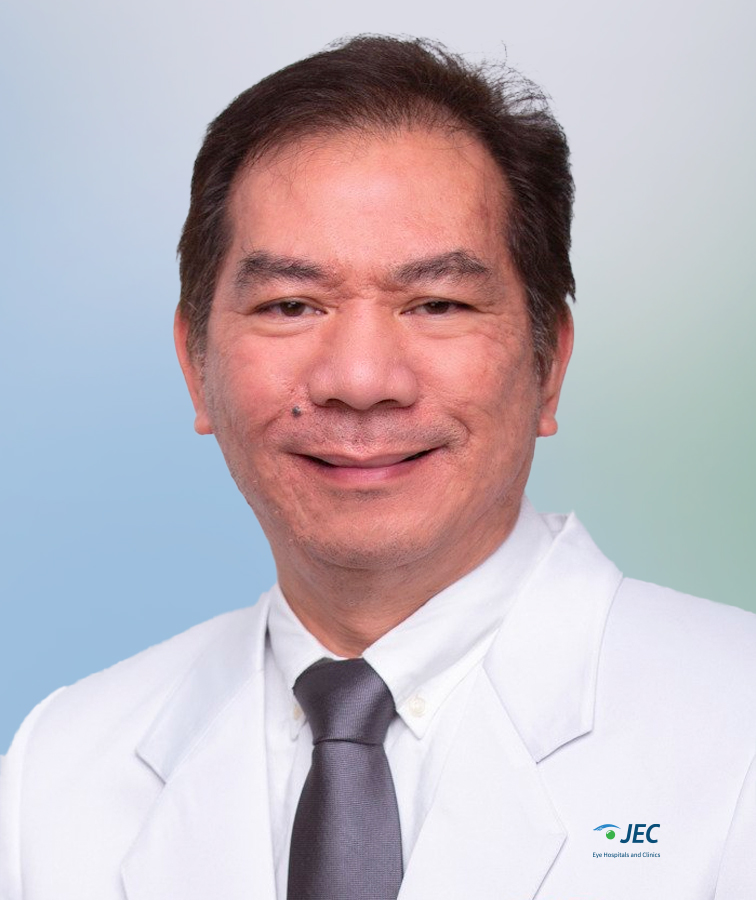 DR. Dr. Johan A. Hutauruk, SpM(K)
Sub Specialist
Cataract

LASIK

Cornea

ReLEx® SMILE PRO
Practice Location
JEC @ Menteng

JEC @ Kedoya
About
---
Dr. Johan A. Hutauruk, SpM(K), is a senior consultant ophthalmologist in cornea, cataract and refractive surgery and currently the President Director of JEC Corporate (PT. Nitrasanata Dharma), a holding company operating 7 Eye Care Facilities in Jakarta:
JEC Eye Hospital @ Menteng
JEC Eye Hospital @ Kedoya
JEC Eye Clinic @ Cibubur
JEC Eye Clinic @ Tambora
JEC Eye Clinic @ Cinere
JEC-Primasana @ Tj. Priok
JEC Eye Clinic @ Bekasi
Dr. Johan A. Hutauruk, SpM(K)Dr. Hutauruk is currently the vice president of PERDAMI, the Indonesian Ophthalmologist Association and the immediate past President of INASCRS, the Indonesian Society of Cataract and Refractive Surgery. He has participated in many live surgeries, teaching courses, lectures and actively involve as scientific committee for the Indonesian Ophthalmologist Annual Meeting. He was also the director of Cornea Service in the Department of Ophthalmology, Universitas Indonesia. In recognition of his contributions to organize more than 10,000 free cataract surgeries per year since 2002, the Asia Pacific Academy of Ophthalmology (APAO) awarded him the APAO Distinguished Service Award during the 2008 APAO and World Ophthalmology Congress in Hong Kong. He is also the Department head of the Indonesian Eye Bank, Kirana Eye Center, Cipto Mangunkusumo Hospital.
He is eager to learn new things in the field of cataract and refractive surgery, that he become the amongst the first to introduce proven surgical technique in Indonesia and shared his experiences to Indonesian colleagues: endothelial keratoplasty (DSAEK), Implantable Contact Lens (ICL), Boston Keratoprosthesis, Corneal Tattoo, Accommodative intraocular lens, corneal collagen cross-linking, femtosecond cataract surgery, Callisto™ cataract surgery suite, LASIK Xtra, ReLEx® SMILE, Deep Anterior Lamellar Keratoplasty (DALK), etc. For the continuous contributions for the scientific events in the region, Dr Hutauruk received the APAO Achievement Award from the Asia Pacific Academy of Ophthalmology in Taipei 2016.
Dr. Hutauruk also member of the advisory board for Indonesian Ophthalmologist Association (PERDAMI) Annual Meeting for a consecutive 12 years, as well as the council member for the Asia Pacific Association of Cataract and Refractive Surgeons (APACRS). He is also member of ASCRS (American Society of Cataract Surgery), ESCRS (European Society of Cataract & Refractive Surgeon) and actively participating to give scientific presentations in many countries and has been invited to perform live surgeries. Dr. Hutauruk is currently involved as the editorial member for the EyeWorld Asia Pacific, Board of Council for the ASC (Asia Cornea Society) and Honorary Treasurer for the APACRS (Asia Pacific Cataract and Refractive Surgeons).
Education
---
Faculty of Medicine, University of Indonesia
Fellowship
---
Cornea, Cataract & Refractive Surgery at University of Utah
Organization
---
Member of Indonesian Ophthalmologist Association [IOA] – PERDAMI
Member of Indonesian Medical Association [IMA] – IDI
Member of Indonesian Society of Cataract and Refractive Surgery [INASCRS]
Member of American Academy of Ophthalmology [AAO]
Member of American Society of cataract and Refractive Surgery [ASCRS]
Member of Association for Research in Vision and Ophthalmology [ARVO]
Member of Asia – Pacific Association of Cataract and Refractive Surgeons [APACRS]
Member of Asia Cornea Society [ACS]
Member of European Society of Cataract & Refractive Surgeon [ESCRS]
Publications and Research
---