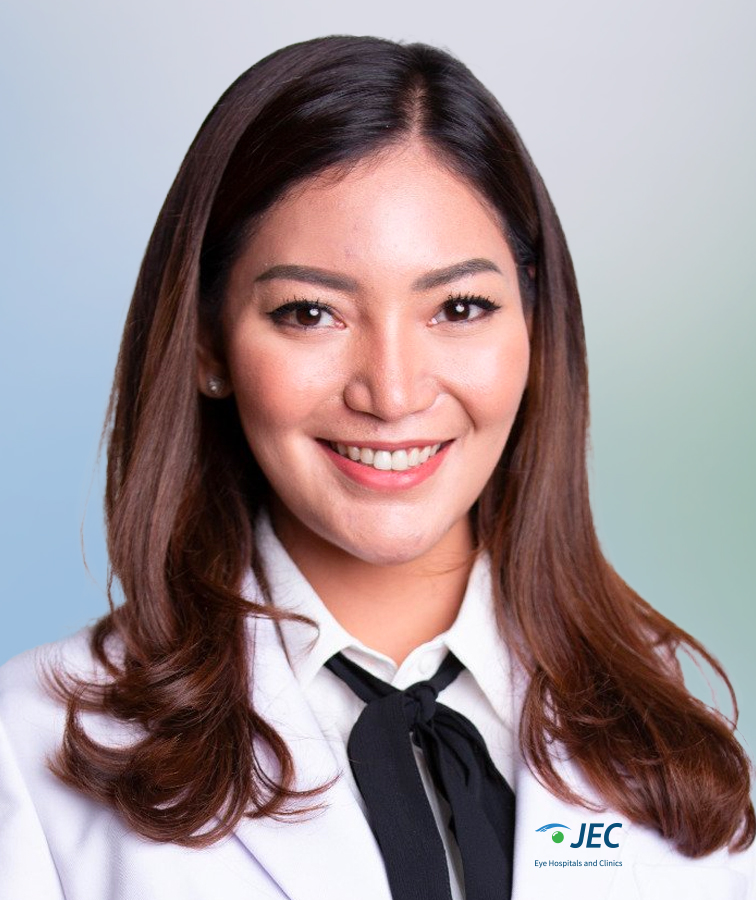 Dr. Damara Andalia, SpM
Sub Specialist
Cataract

LASIK

Contact Lens

Dry Eye
Practice Location
JEC @ Menteng

JEC @ Kedoya

JEC @ Tambora
About
---
Damara Andalia, MD is a full-time ophthalmologist at JEC Eye Hospital. Her core area of specialization is contact lens. She graduated as a general medical doctor from Faculty of Medicine, University of Indonesia. She finished her residency program in ophthalmology at the same place. After that, she was taking fellowship in refraction and contact lens at JEC. She continued her fellowship in specialty contact lens at Global Vision Rehabilitation Center, Miami, USA. Thereafter, she pursued a clinical fellowship program in dry eye, contact lens, keratoconus and ocular surface diseases at Osaka University Hospital, Osaka, Japan.
She became the first ophthalmologist that examine and performs Scleral Lens in the whole country. She performs all new fittings techniques at JEC as a contact lens specialist. She successfully pulls off the difficult cases using the latest technologies including lenses for Keratoconus, ocular surface disease, Stevens-Johnson Syndrome, children, high myopia, high astigmatism, anisometropia, competitive sports, and complications post refractive surgeries. These initiations of hers are well-known and appreciated by her fellow ophthalmologists and surely well-received by patients.
Damara Andalia, MD expertise and practice also include performing comprehensive eye exams for children and adults, cataract surgery, LASIK and the treatment and management of ocular disease, dry eye and meibomian gland dysfunction. Her clinical work includes determining the best option for vision rehabilitation in refractive errors of her patients, including Orho-K. She also performs various diagnostic testing and treatment options for dry eye.
Damara Andalia, MD has successfully presented her varied research which focused on refraction and contact lens both in national and international conference. She is an active participant at national and international professional meetings and conferences.
She sincerely believes that basic refraction knowledge is crucial in the daily practice of an ophthalmologist. The majority of the patients are those with refractive errors and she has encountered many of them, further igniting her passion for this area of eye health. With the continuing increase of contact lenses users by days, Damara Andalia, MD lives her passion to provide people the chance of having better sight and vision.
Education
---
General Practitioner : Faculty of Medicine, University of Indonesia
Ophthalmology : Faculty of Medicine, University of Indonesia
Fellowship
---
Contact Lens, JEC Eye Hospital, Jakarta, Indonesia
LASIK Certification at National University Hospital (NUH), Singapore
Contact Lens, Specialty Lenses and Dry Eye at Global Vision Rehabilitation Center, Miami, USA
Cornea, Keratoconus, Contact Lens & Dry Eye at Osaka University Hospital, Osaka, Japan
Organization
---
Indonesian Medical Association
Indonesian Ophthalmologist Association
Indonesian Refraction and Vision Optimization Society (INARVOS)
American Academy of Ophthalmology (AAO)
Asia Cornea Society (ACS)
Publications and Research
---