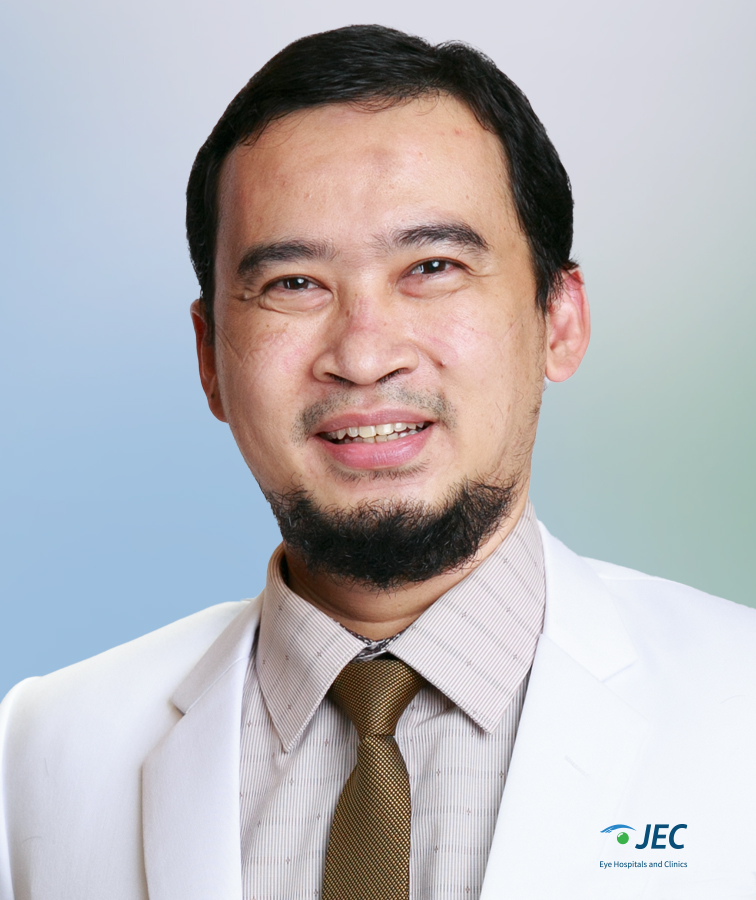 Dr. Budy Surakhman, SpM
Sub Specialist
Cataract

LASIK

Cornea

Ocular Inflammation and Immunology

ReLEx® SMILE
Practice Location
About
---
dr. Budy Surakhman, SpM is a ophthalmologist in the division of infection immunology and corneal refractive surgery. He graduated as a general practitioner in the year 2006 at the University of Brawijaya and as an ophthalmologist in the year 2014 at the University of Airlangga. He followed the program Three months of the International Council of Ophthalmology (ICO) External Eye Disease Fellowships in Raghudeep Eye Hospital (REH) Ahmedabad, India in the year 2016.
dr. Budy Surakhman, SpM work as an ophthalmologist at the Clinic the Main Eyes of JEC-JAVA @ Surabaya become an expert in cataract surgery, he is often contribute to social cataract surgery; LASIK and Relex SMILE. He several times invited as a speaker at national events. This period dr. Budy reassume the Section members Community service/Alleviation of Cataract Blindness in the management of Perdami Jatim 2019 - 2022.
dr. Budy Surakhman, Md is a member of the seminat Infection immunology (INOIIS) and corneal refractive surgery (INASCRS) in Indonesia. She several times gave a presentation on regional events and national. dr. Budy actively participate in social cataract surgery at the regional level den national on social cataract surgery PIT – Congress Perdami 2019 in South Sulawesi.
Education
---
General Practitioner : Faculty of Medicine Universitas Brawijaya Malang

Ophthalmologist : Medical Faculty Airlangga University
Fellowship
---
Training ReLEx SMILE using ZEISS Visumax Femtosecond Laser System February 2020

SNEC SMILE ACCREDITATION COURSE July 2019
Online Course MEL 90, Visumax Basic and Visumax Flap Application January 2019
Training Femtosecond LASIK using ZEISS Visumax Femtosecond Laser System January 2019
Fellowship Three months International Council of Ophthalmology (ICO) External Eye Disease Fellowships di Raghudeep Eye Hospital (REH) Ahmedabad India 2016
Organization
---
Members of the Section of Community Service - eradication of blind cataract unity ophthalmologist Indonesia (PERDAMI) east java

Member of INOIIS

Member of INASCRS

Member of INACOS

Member of APACRS
Publications and Research
---
"Relationship Between the Disruption of the integration of the sensor system Sensem sensor and Kortical Impairment of The Range of Development Delay Child Denganical Impairment " 2014