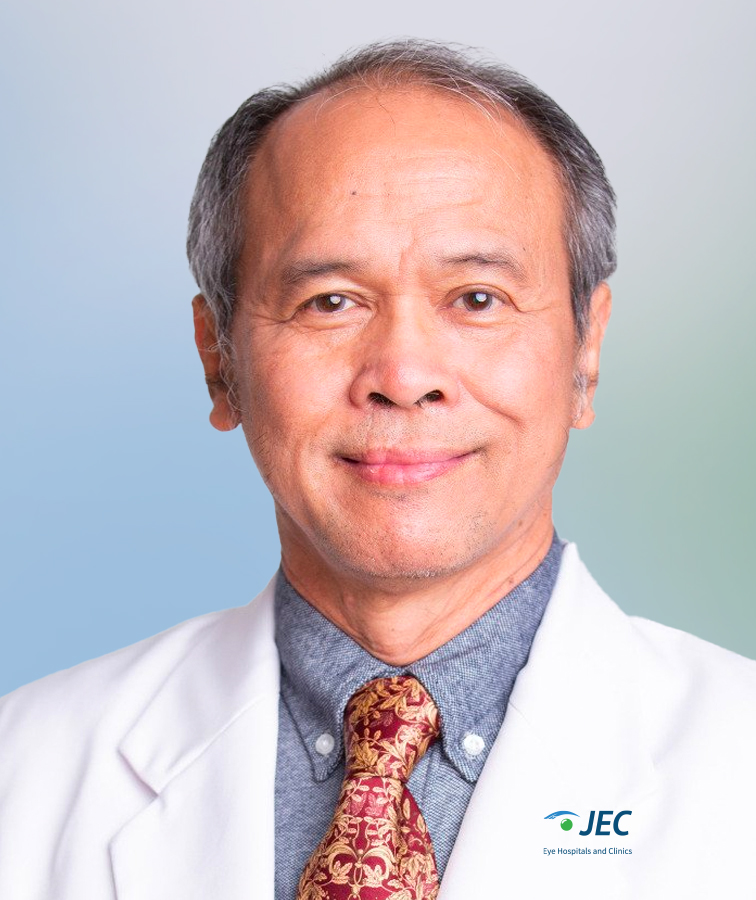 Prof. Dr. Tjahjono D. Gondhowiardjo, SpM(K), PhD
Sub Specialist
Cataract

LASIK

Cornea

ReLEx® SMILE PRO
Practice Location
About
---
Prof. Tjahjono D. Gondhowiardjo, MD, is now the Director of Development and Education of JEC Corporate (PT. Nitrasanata Dharma). He has been in the long practice and service at JEC since 1992, directly after completing his PhD from University of Amsterdam. His clinical expertise in corneal problems has been derived from the two-best corneal surgeons in Netherlands in that era, namely Prof. Gabriel van Rij and Prof. Hennie Volker-Dieben.
He has played the main important role on the development and progress of the Indonesian Ophthalmology within the last decades by giving his best to the community. Due to his years of practices and dedication to what he does best at, which is for the ophthalmology field, he has been acknowledged nationally and internationally to be one of the best ophthalmologists. He has been famous for his best skills, to have a very meticulous surgery and treatment in order to help the patients have a better vision.
He had a start of his active involvement as the Head of the Department of Ophthalmology, University of Indonesia / Cipto Mangunkusumo National Hospital (1997-2004), while after that, he was trusted with a very important role as the President of the Indonesian Ophthalmologist Society (2003-2010). He was also given a mandate to be the Chairman of Indonesian Committee of Prevention of Blindness (2004-2007), before he got to put himself as the Vice Chairman/Acting Chairman for Indonesian Eye Bank (2005-2010). A special credence to become the Congress President of the 2009' Asia Pacific Academy of Ophthalmology (APAO) and American Academy of Ophthalmology (AAO) Joint Congress, should speak volume as well as his excelled experiences by being APAO' Asian Coordinator for Education in 2009-2011 and Vice President (2010-2012). His dedication and involvements have been recognized by the APAO' Distinguish Service Award (2004) and the Arthur Liem' Award for leadership in 2010.
Besides of those involvements, he had served as the Chairman of the Indonesian College of Ophthalmology (2010 - 2016) and the Indonesian Eye Bank (2011 - Present). His services had been expanded by having the chance to become the Convener of the APAO' Leaderships Development Program, the Council Member and Co-Founder of the ASEAN Association of Eye Hospital (AAEH - 2004), the Council Member of the ASEAN Ophthalmology Society (AOS 2013), and Founding Fellow of Academy of Asia Pacific Professor in Ophthalmology (AAPPO – 2013), while he is now also an active member of the Indonesian Academy of Sciences (AIPI 2008). Therefore, those countless experiences of his have made him awarded by the community and as a result, he has been trusted by the patients to help them, since he is the right one to help the patients to get their satisfied results.
Education
---
Faculty of Medicine, University of Indonesia
Organization
---
Member of Indonesian Ophthalmologist Association [IOA] –PERDAMI
Member of Indonesian Medical Association [IMA] – IDI
Member of Indonesian Society of Cataract and Refractive Surgery (INASCRS)
Member of Asia Pacific Academy of Cataract and Refractive Surgery [APACRS]
AWARD
- The APAO Achievement Award , Asian-Pacific Academy of Ophthalmology Congress (APAO) 2017
Publications and Research
---