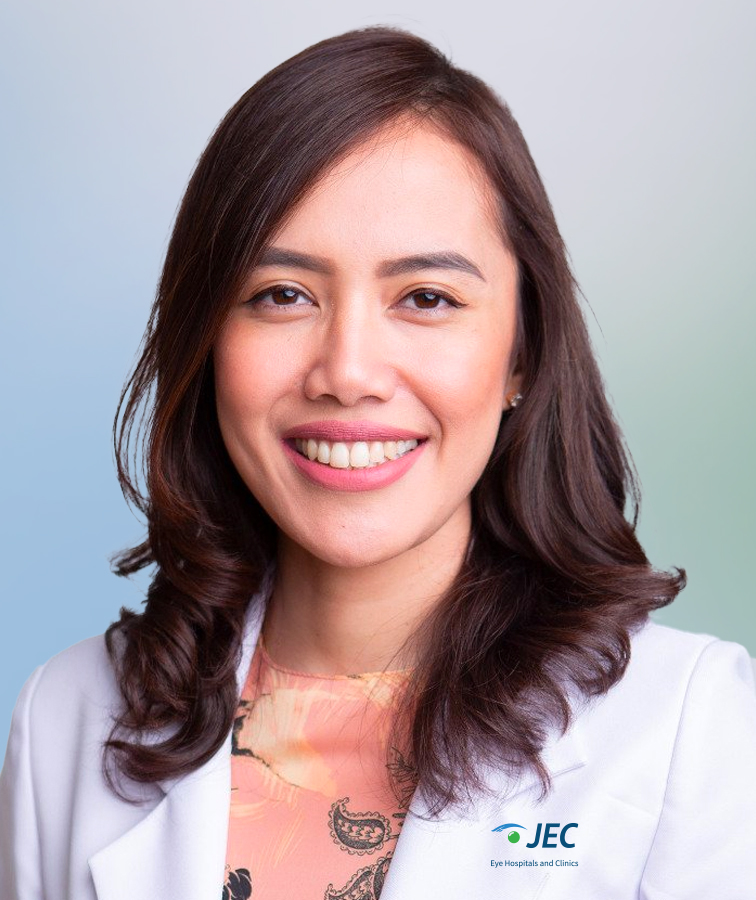 Dr. Nina Asrini Noor, SpM
Sub Specialist
Practice Location
JEC @ Kedoya

JEC @ Tambora

JEC @ Cinere
About
---
Dr Nina is a full-time ophthalmologist at JEC Eye Hospitals and Clinics. She graduated and received her medical doctor degree from Faculty of Medicine, Universitas Indonesia, one of the leading universities in Indonesia. She then finished ophthalmology training at the same university. Dr Nina believes that clinical practice, knowledge and research are inseparable. She has great passion and interest towards ophthalmological research. She presented several case reports, review and original research papers in both national and international symposiums.
Her areas of practice include general ophthalmology, cataract, dry eye and ocular surface disease. Following her passion towards dry eye and ocular surface disease, she took several fellowships abroad for this field in Japan, France, and United Kingdom. She also participates in courses and seminars focusing on dry eye and ocular surface disease.
Dr Nina encourages that dry eye should not be underestimated because it has become an emerging eye problem in a large population not only in elderly but also young adults and children. In her clinical practice, Dr Nina performs various diagnostic testing and advance treatment options for dry eye. Together with the other cornea and external eye disease experts, now JEC has a comprehensive Dry Eye Center.
Education
---
General Practitioner : Faculty of Medicine, University of Indonesia
Ophthalmology : Faculty of Medicine, University of Indonesia
Fellowship
---
Dry Eye, RS Mata JEC, Jakarta, Indonesia
Dry Eye & Cornea, Kyoto Prefectural University of Medicine, Kyoto, Jepang
Ocular Surface Disease, Centre Hospitalier National d'Ophthalmologie des Quinze-Vingts, Paris, Perancis
Cornea & External Disease, Moorfields Eye Hospital, London, Inggris
Organization
---
Indonesian Medical Association
Indonesian Ophthalmologist Association
Indonesian Ocular Infection and Immunology Society (INOIIS)
Tear Film and Ocular Surface Society (TFOS)
Asia Cornea Society (ACS)
Société Française d'Ophtalmologie (SFO)
International Ocular Inflammation Society (IOIS)
Appreciation
---
Bourse de la mobilité de la Société Française d'Ophtalmologie
Asia Cornea Society (ACS) Santen Educational Grant
Travel Grant for 7th World Glaucoma Congress, Helsinki, Finland
Best Rapid-fire Presentation at 3rd ASEAN Ophthalmology Society Congress, Jakarta, Indonesia
Thesis Scholarship from Education Fund Management Institution, Ministry of Finance, Republic of Indonesia
Runner Up of Best Free Paper Presentation at 41st Annual Scientific Meeting of Indonesian Ophthalmologist Association, Jakarta, Indonesia
Runner Up of Best Poster Presentation at 39th Annual Scientific Meeting of Indonesian Ophthalmologist Association, Yogyakarta, Indonesia
Publications and Research
---
Doxycycline vs Azithromycin for MGD and Blepharitis: Systematic Review of Published Clinical Trials, 2019.
Noor NA. Dry Eye Disease: The Undervalued Impact on Quality of Life. W J Opthalmol & Vision Res. 1(1): 2018. WJOVR. MS.ID.000505. DOI: 10.33552/WJOVR.2018.01.000505.
Assessment of Dry Eye Symptoms and Signs in Elderly Population Undergoing Cataract Surgery in Indonesia, JEC Eye Hospital, 2017.
Noor NA, Mustafa S, Artini W. Glaucoma drainage device implantation with adjunctive intravitreal bevacizumab in neovascular glaucoma: 3-year experience. Clin Ophthalmol. 2017;11:1417-1422.
Noor NA, Anggraini N, Mutmainah, Aman RA. Transcranial supraorbital approach for tumor removal of spheno-orbital meningioma with favorable clinical outcomes. Ophthalmol Ina. 2016;42(2):113-118.