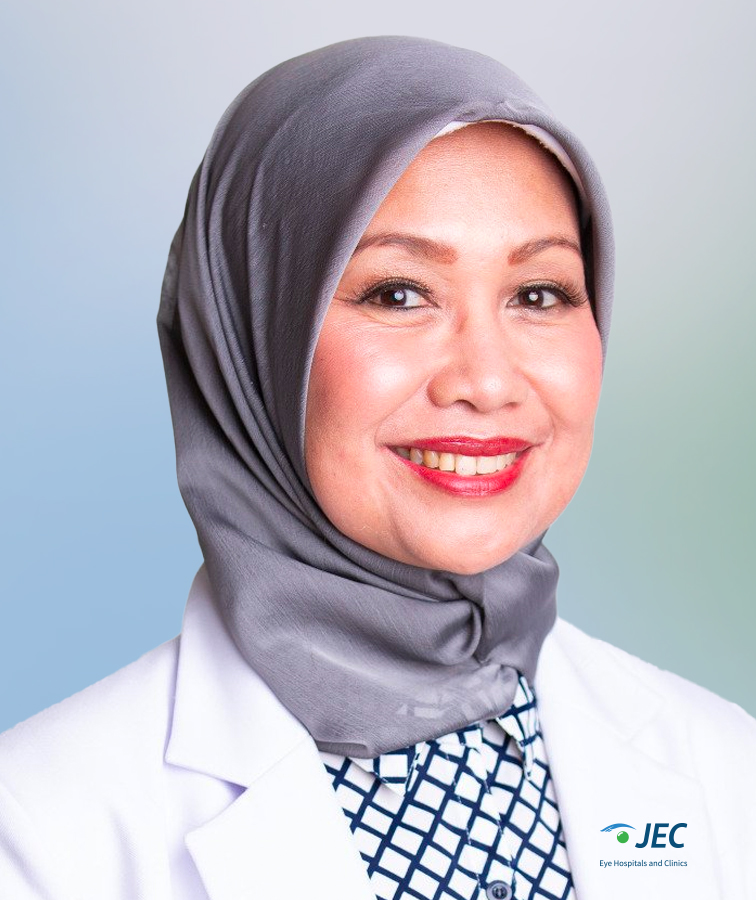 DR. dr. Tri Rahayu, SpM(K), FIACLE
Sub Specialist
Cataract

LASIK

Contact Lens
Practice Location
JEC @ Menteng

JEC @ Kedoya
About
---
Tri Rahayu, MD, is an ophthalmologist consultant and also the Head of Contact Lens Service of JEC Eye Hospital. After graduated from Ophthalmology Training Program, Faculty of Medicine, the University of Indonesia in 2001, she was actively involved as a cataract surgeon for the Indonesian Cataract Eradication Program in several rural areas during 2001-2005. She is a sub-specialist of Cataract, LASIK, and Contact Lens due to her years of experience as an ophthalmologist.
Dr. Tri Rahayu got her Fellow of International Association Contact Lens Educator (FIACLE) in 2004 and finished the Cataract and Refractive Surgery Fellowship at JEC in 2006. She then actively participated as a speaker of many local and international scientific events. She is now also a Faculty Member/Lecturer of the Ophthalmology Department, Faculty of Medicine, University of Indonesia.
Now, Dr. Tri Rahayu is the President of Indonesian Refraction and Vision Optimization Society, and actively shares her experiences in Contact Lens Fitting as well as Refraction Management to other Indonesian Ophthalmologist colleagues. Up till the 2010s, she was the only Ophthalmologist who was able to fit Contact Lenses for infants and children in Indonesia while up to now, she has done hundreds of these works, and she is also still actively teaching and encouraging Indonesian Ophthalmologists to fit contact lens for infants and children. This special achievement has been a guarantee that all of her patients will get the best results of treatments under her supervision. Besides this specialization, she is also interested in cataract and LASIK surgery as well as managing children with refractive problems.
Dr. Tri Rahayu is now the Head of Continuing Medication Education Commission, Indonesian Ophthalmologist Association, and Indonesian College of Ophthalmology. She has also been involved as a Board Member of the Indonesian Ophthalmologist Association and Indonesian College of Ophthalmology since 2006.
Education
---
Faculty of Medicine, Gajah Mada University
Doctoral Program of Biomedic Science, Faculty of Medicine, Universitas Indonesia
Fellowship
---
Cataract & Refractive Surgery, JEC Eye Hospital
International Association of Contact lens Educator (IACLE)
Organization
---
Member of Indonesian Ophthalmologist Association [IOA] – PERDAMI
Member of Indonesian Medical Association [IMA] – IDI
Member of International Association of Contact Lens Educator [IACLE]
Appreciation
---
Faculty of Medicine, University Indonesia
Publications and Research
---