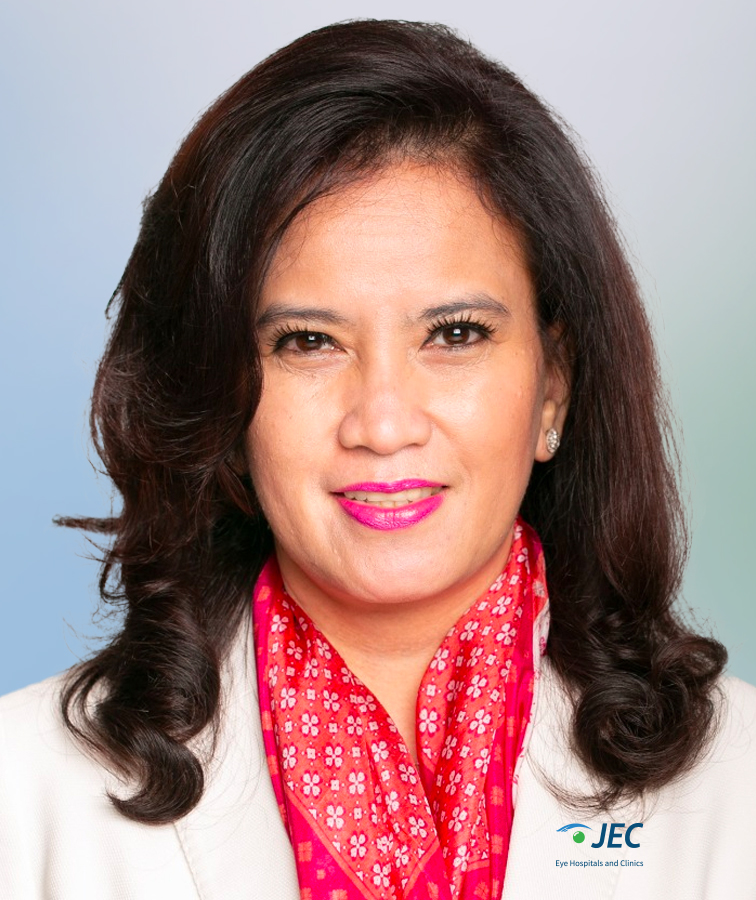 DR. Dr. Yunia Irawati, SpM(K)
Sub Specialist
Cataract

LASIK

Orbital, Oculoplastic, and Reconstructive

Eyelid and Orbital Trauma
Practice Location
JEC @ Menteng

JEC @ Kedoya
About
---
Dr. Yunia Irawati, SpM(K), is a senior consultant ophthalmologist in plastic and reconstructive surgery. She has been working for JEC Eye Hospitals and Ophthalmology Department, Faculty of Medicine, Universitas Indonesia – Cipto Mangungkusumo General Hospital (UI – RSCM), Jakarta since 2004. She graduated as a General Practitioner in 1992 and as an Ophthalmologist in 2003, at Universitas Indonesia. She joined the program as an Observer at Moorfields Eye Hospital London and Singapore National Eye Center in 2007 and also joined Adnexal and Orbital Fellowship Program at Seirei Hamamatsu Hospital, Japan in 2009.
Dr. Yunia Irawati, SpM(K) continues her work not only as a consultant but also a teacher who educates medical students, ophthalmology residents and fellow doctors in orbital and plastic reconstructive surgery at JEC Eye Hospitals and UI – RSCM. Dr. Yunia's clinical and research interest focus on eyelid reconstructive surgery, orbital socket and fracture reconstruction, and lacrimal excretion system surgery. Being an expert in cataract surgery, she contributes to cataract surgery social activities and LASIK. She serves as the Head of Plastic and Reconstructive Surgery Division at Department of Ophthalmology UI – RSCM; Head of Orbital and Oculoplastic Service and Head of Ocular Trauma Service at JEC Eye Hospitals. She is the current President of Indonesia Society of Ophthalmic Plastic and Reconstructive Surgery (INASOPRS).
Dr. Yunia Irawati, SpM(K) is the council member for the Asia Pacific Ophthalmic Trauma Society (APOTS) and member for the Asia Pacific Society of Ophthalmic Plastic and Reconstructive Surgery (APSORPS). She is often invited to be a guest speaker and actively participates in giving scientific presentations and workshops in national and international events. She writes books for educational purpose and publishes both national and international journals. Besides, since Dr. Yunia Irawati, SpM(K) has big interest in leprosy, she also leads a leprosy team, KATAMATAKU, which consists of doctors who specialize in ophthalmology, dermato-venereology, medical rehabilitation and orthopedics. As a Lecturer, she does her best to dig the potential in carrying out Tridharma Perguruan Tinggi (Three Pillars of Higher Education comprising Education, Research and Community Service).
Education
---
General Practitioner : Faculty of Medicine Universitas Indonesia, Jakarta
Specialist : Faculty of Medicine Universitas Indonesia, Jakarta
Fellowship
---
Fellowship at Plastic Reconstruction Division, Department of Ophthalmology, Universitas Indonesia
Ophthalmology Fellowship in Cataract Surgery and Phacoemulsification, Jakarta Eye Center
Observership at Moorfields Eye Hospital, NHS Foundation Trust in the Adnexal Service, London
Observership at Singapore National Eye Hospital in Aesthetic and Reconstructive Service, Singapore
Clinical Fellowship at Dept. of Oculoplastic and Orbital Disease at Serei Hamamatsu Hospital Japan
Organization
---
Member of Commission of Certification of Indonesian Ophthalmologists Association
Member of Audit Board of IOA
Chairman, Department of Professional Development IOA of DKI Jakarta
Head of Oculoplastic Service, JEC Eye Hospitals
Head of Ophthalmic Trauma Service, JEC Eye Hospitals
Head of Plastic and Reconstructive Surgery Division, Department of Ophthalmology, Faculty of Medicine, Universitas Indonesia
President of Indonesian Society of Ophthalmic Plastic and Reconstructive Surgery (INASOPRS)
Appreciation
---
1st Winner of Video Presentation entitled "LeFort II – III Fracture Repair – Multistep Approach with Satisfactory Result" at The 43rd Annual Scientific Meeting of Indonesian Ophthalmologists Association, Padang, West Sumatera, Indonesia
Publications and Research
---
Inadequate Management of Multiple Orbital Fractures and Traumatic Optic Neuropathy. Journal of Case Report, published online; 15 July 2017 http://dx.doi.org/10.17659/01.2017.0066
Challenges in managing Steven Johnson Syndrome with chronic ocular and extraocular abnormality. EyeSEA Eye South East Asia Vol 13 No 1 (2018): January - June 2018 https://tci-thaijo.org/index.php/eyesea/article/view/115442
Management of old naso-orbital fractures with ocular involvement and associated complications caused by facial trauma. Medical Journal of Indonesia. pISSN: 0853-1773. eISSN: 2252-8083|https://doi.org/10.13181/mji.v27i1.1959|2018;27:54–61|Received 21 Apr 2017|Accepted 15 Feb 2018 http://mji.ui.ac.id/journal/index.php/mji/article/view/1959/1214.
Successful management of bilateral periorbital necrotising fasciitis with ocular involvement. BMJ Case Reports doi:10.1136/bcr-2017-223457 Accepted 22 February 2018 Published 15 March 2018 (http://casereports.bmj.com/content/2018/bcr-2017-223457.abstract)
Management of Adnexal Soft Tissue Deformities in Trauma. APOTS/OTSI Ophthalmic Trauma Congress July 12-15th 2018
Reconstruction of Old Orbital Fracture: To Do or Not To Do? APOTS/OTSI Ophthalmic trauma congress July 12-15th 2018
Challenges of managing ocular trauma in multiple facial fractures. The Medical Journal of Malaysia Vol 73 Supplement 2, August 2018 - 8th Conjoint Ophthalmology Scientific Conference in conjunction with 10th UKM Ophthalmology Symposium (http://www.e-mjm.org/2018/v73s2/epp-17-18.pdf)
Removal of a retained wooden intraorbital foreign body using endoscopic guidance. The Medical Journal of Malaysia Vol 73 Supplement 2, August 2018 - 8th Conjoint Ophthalmology Scientific Conference in conjunction with 10th UKM Ophthalmology Symposium (http://www.e-mjm.org/2018/v73s2/pp-45-46.pdf)
Successful removal of intraorbital metal plate and corneal intrastromal glass particle foreign bodies. The Medical Journal of Malaysia Vol 73 Supplement 2, August 2018 - 8th Conjoint Ophthalmology Scientific Conference in conjunction with 10th UKM Ophthalmology Symposium (http://www.e-mjm.org/2018/v73s2/pp-49-50.pdf)