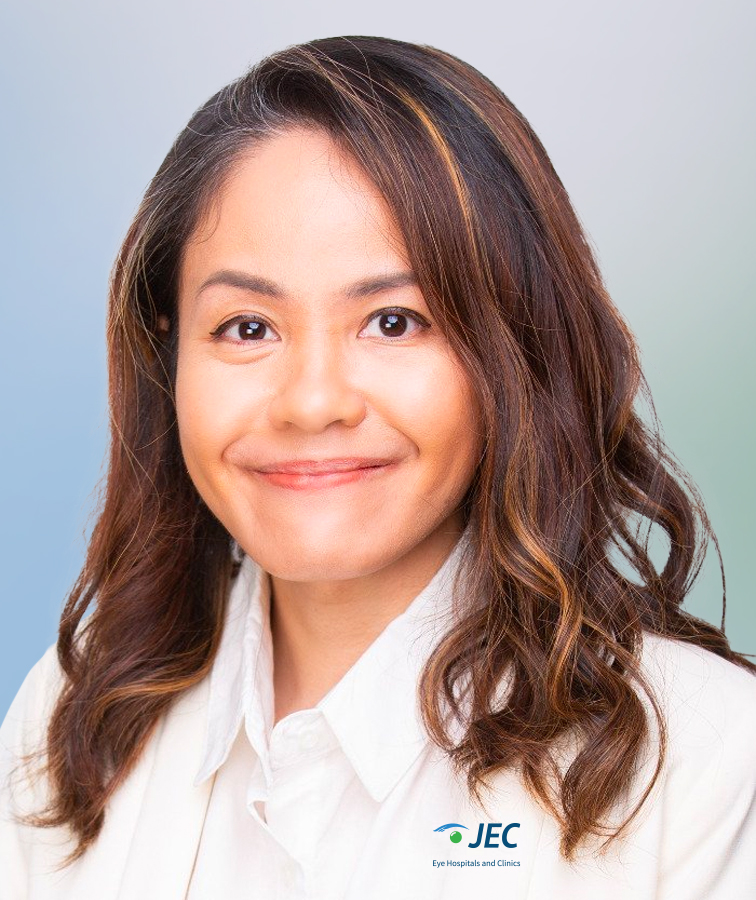 Dr. Sharita R. Siregar, SpM(K)
Sub Spesialis
Cataract

LASIK

Cornea

Ocular Inflammation and Immunology

ReLEx® SMILE
Lokasi Praktek
JEC @ Menteng

JEC @ Kedoya
Tentang
---
Sharita Siregar is one of the ophthalmologists in JEC Eye Hospitals and Clinics. She was graduated her medical doctor from Medical Faculty University of Indonesia in 2007 and as an ophthalmologist from the same institution as well in 2012.
She joined JEC Eye Hospitals right after she graduated and accomplished her cornea, cataract and refractive surgery fellowship in 2012.Currently, She is also the Head of Lions Eye Bank Jakarta/LEBJ that was erected in 2018 to procure, storage and distribution of the corneal tissues. With focus on interest mainly in cornea infection and transplantation, external eye disease, Cataract and Refractive Surgery, she do cataract surgery with several types of intraocular lens/IOL implantation such as monofocal and premium IOLs (multifocal and toric lens), secondary IOL implantation and bioptic as well for post cataract patient with residual refraction. As for refractive surgery field, she manages refractive status such as myopia and or astigmatism through Relex SMILE, LASIK, Lasik Xtra or Phakic IOL. She already certified for implantable ICL lens, PRK, PTK and presby LASIK.
In cornea fields, she manages various cornea problems such as keratoconus with glasses, BLT or Cross linking (CXL), corneal tattoo for permanent corneal opacity in nonfunctional eye and other cornea problems such as infective keratitis, cornea dystrophy and also cornea degeneration that can be treated with corneal transplant. She already certified for corneal transplantation such as Penetrating Keratoplasty (PK), Bowman Layer Transplantation/BLT, Deep Anterior Lamellar Keratoplasty (DALK), Descemet Stripping Automated Keratoplasty/DSAEK and Descemet Membrane Endothelial Keratoplasty/DMEK. She is also specialized and certified for incomplete iris management through suture or additional iris implantation.
Education and Research
Sharita Siregar completed her full one year clinical fellowship for Corneal and External Eye Disease in Singapore National Eye Centre/SNEC from 2015 to 2016. She did Corneal and Cataract Refractive Surgery Observership in Tan Tock Seng Hospital, Singapore in 2013. Certified as a LASIK surgeon in 2012 and Relex SMILE in 2015. For corneal transplantation, she was certified in 2013. And to keep updating her knowledge, she is active for several courses such as advanced cornea course at Lugano, Switzerland in 2018 and DMEK-BLT newest keratoplasty/corneal transplant treatment under the inventor of endothelial keratoplasty himself, dr.Gerrit Melles at Melles Cornea Clinic/NIIOS, Rotterdam in 2019.
She is an active ophthalmologist for every ophthalmology meeting. Her membership includes World Cornea Society, European Society of Cataract and Refractive Surgeons (ESCRS), Asia Cornea Society, Asia Pacific Cataract and Refractive Society/APACRS and Asia Pacific Ocular Trauma Society/APOTS. She was the speaker for her research in Asia Pacific Academy of Ophthalmology (APAO) in 2011, Asia Pacific Society of Cataract and Refractive Surgery in 2012 and 2016, and pointed as a chair person for ESCRS meeting Milan back in 2012.
Pendidikan
---
Fakultas Kedokteran, Universitas Indonesia
Fellowship
---
Fellowship :
Cornea, Cataract and Refractive Surgery at Singapore National Eye Center, Singapore (2015 - 2016)
Corneal transplant: DALK and DSAEK certification course at Singapore National Eye Centre, Singapore (2015)
LASIK certification at Tan Tock Seng Hospital, Singapore (2013)
Cornea, Cataract and Refractive Surgery at Jakarta Eye Center, Indonesia (2012)
Observership :
Cornea, Cataract and Refractive Surgery in Tan Tock Seng Hospital, Singapore
Organisasi
---
Anggota World Cornea Society
Anggota Asia Cornea Society
Anggota European Society Cataract and Refractive Surgery (ESCRS)
Head of Young Ophthalmologist Program as well as a member of Indonesian Society of Cataract and Refractive Surgery (INASCRS)
Executive Member of Asia Pacific Association of Cataract and Refractive Surgeons (APACRS)
Anggota Indonesian Ophthalmologist Association (IOA)
Anggota Indonesian Medical Association (IMA)
Penghargaan
---
Fakultas Kedokteran, Universitas Indonesia
Publications and Research
---