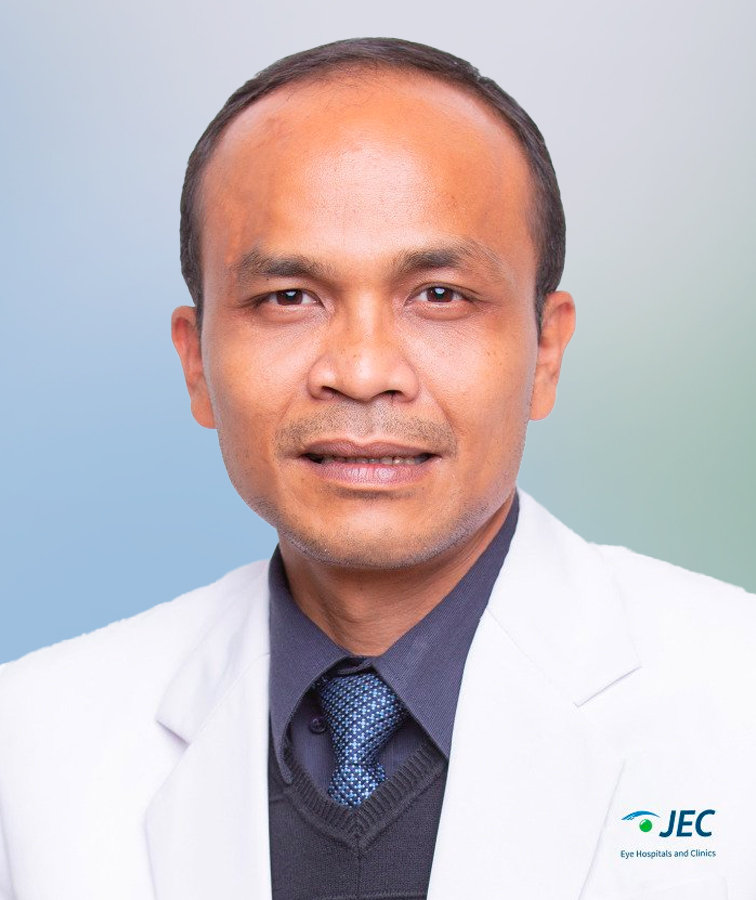 Dr. Ucok P. Pasaribu, SpM(K)
Sub Specialist
Cataract

LASIK

Cornea

ReLEx® SMILE PRO
Practice Location
JEC @ Menteng

JEC @ Kedoya
About
---
Ucok P. Pasaribu, MD, is a full-time ophthalmologist at JEC Eye Hospital. He graduated as a Medical Doctor from Medical Faculty, University of Indonesia in 2002. He took ophthalmology as his postgraduate concern the same university as before, in 2008.
Dr. Pasaribu, MD, has already accomplished his Cataract Management and Phacoemulsification Fellowship in 2010 at Iladevi Cataract and IOL Research Center, Ahmedabad, India. His clinical expertise in Cataract and Phacoemulsification problems is derived from Dr. Abhay Vasavada, one of the best Cataract surgeons in the world right now. Then, in 2013, he got an International Council of Ophthalmology Scholarship for Cornea and External Eye Disease Fellowship at Juntendo University, Tokyo, Japan. He learned under supervision from Prof. Akira Murakami who has done a lot of research on Corneal Dystrophies. These excellent profiles has made him to be acknowledged for his special expertise as an ophthalmologist, which has led him to get people's attention and trust to help them have better visions.
He was certified from Singapore National Eye Center (SNEC) for Lasik surgery and Corneal Transplantion in 2011, while in the next year, 2012, he achieved KeraRings Intrastromal Implant and Corneal Cross-Linking Therapy during European Society of Cataract and Refractive Surgeon Congress in Milan.
Besides of being well-known for his competency of expertise, he is also very active as a speaker, a moderator and also as a surgeon at the live surgery session at many International and National Meeting.
Education
---
Faculty of Medicine, University of Indonesia
Course :

Corneal Surgery and External Eye Disease (Singapore National Eye Center, Singapore)

DSAEK and DALK Surgery (Singapore Natinal Eye Center, Singapore)

Advance in Refractive Surgery and Basic LASIK (Singapore National Eye Center, Singapore)

KeraRingsIntrastromal Implant (European Society of Cataract and Refractive Surgeons Congress, Milan, 2012)

Corneal Cross-Linking Therapy (European Society of Cataract and Refractive Surgeons Congress, Milan, 2012)

DMEK and Bowman Layer Transplantation (NIIOS, Rotterdam, Netherlands)
Fellowship
---
Fellowship :
Cataract Management and Phacoemulsification (Iladevi Cataract & IOL Research Center, Ahmedabad, India)

Ophthalmology Scholarship for Cornea and External Eye Disease, Juntendo University, Tokyo, Japan
Organization
---
General Secretary of Indonesian Society of Cataract and Refractive Surgery (INASCRS)
Member of Indonesian Medical Association (IMA) – IDI
Member of Indonesian Ophthalmologist Association (IOA) – PERDAMI
Member of American Society of Cataract and Refractive Surgery (ASCRS)
Member of Asia Pacific Association of Cataract and Refractive Surgeons (APACRS)
Member of Asia Pacific Ophthalmic Trauma Society (APOTS)
Member of Cornea Society
Member of American Academy of Ophthalmology (AAO)
Member of International Society of Refractive Surgery (ISRS)
Member of Asia Cornea Society (ACS)
Publications and Research
---