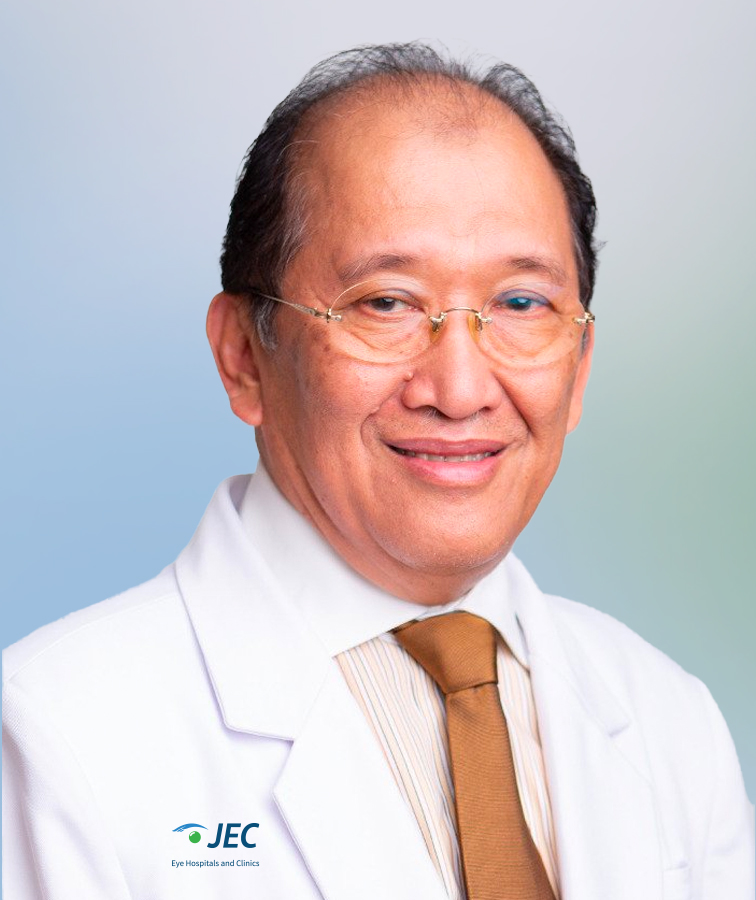 Dr. Soedarman Sjamsoe, SpM(K)
Sub Specialist
Cataract

Vitreoretina

Ocular Inflammation and Immunology

Comprehensive Ophthalmology
Practice Location
JEC @ Menteng

JEC @ Kedoya
About
---
Dr. Soedarman Sjamsoe, MD, is a consultant for Vitreoretinal and Infection & Immunology at JEC Eye Hospital and a Director of Ocular Infection & Immunology Services, Department of Ophthalmology, University of Indonesia, Kirana RSCM Hospital. He was once to be a President of the Ocular Infection & Immunology Interest Group (PERDAMI) and a Vice President of the Vitreoretinal Interest Group (PERDAMI).
Dr. Soedarman completed his postgraduate study from ophthalmology major at University of Indonesia. He took his fellowship at Uveitis in 1994 from Fujita Gakuen University, Nagoya, Japan and another fellowship for vitreoretina surgery at Lions Eye Institute, Perth, Australia, in 1998. Then, he did another fellowship in OCT at San Rafaelle University Hospital (Prof Brancato), Milan, 2004, and also a fellowship at EVRTS (European Vitreoretina Training School) in Bremen 2007 to enrich his specialty in Cataract, Vitreoretinal, and Immunology Infection. These experiences from varied institutions have made him to have countless experiences for the ophthalmology field, while he is also acknowledged both nationally and internationally for his involvement and dedication as an ophthalmologist.
Dr. Soedarman has actively participated in instructional course in the annual meeting of the AAO (American Academy of Ophthalmology) in 2002 in Orlando, United Stated of America as the instructor, many teaching courses and lectures for Indonesian Ophthalmologist Association since 1986 until now.
Education
---
Faculty of Medicine, University of Indonesia
Fellowship
---
Vitreoretinal Training, Lions Eye Institute, Perth, Australia

Uvetis, Fujita University, Nagoya, Japan

European Vitreoretinal Training School, Bremen, Germany
Organization
---
Member of Indonesian Ophthalmologist Association [IOA] – PERDAMI
Member of Indonesian Medical Association [IMA] – IDI
Member of European Society of Retina Specialist [EURETINA]
Member of International Ocular Inflammation Society [IOIS]
Member of American Academy of Ophthalmology [AAO]
Member of European Vitreoretinal Society [EVRS]
Publications and Research
---