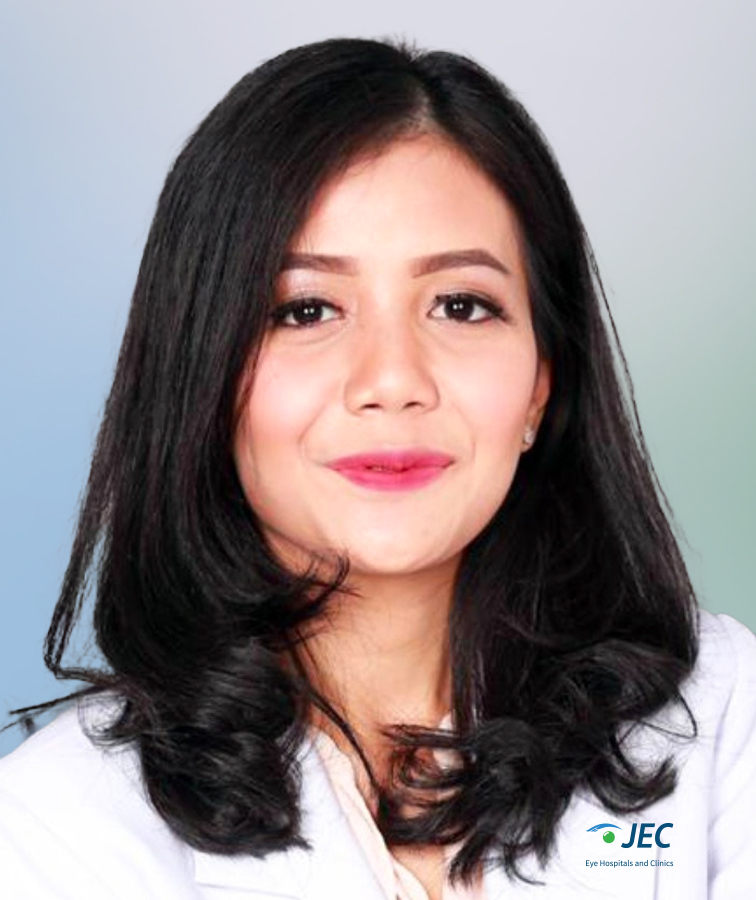 Dr. Dyah Tjintya Sarika, SpM
Sub Specialist
Cataract

Orbital, Oculoplastic, and Reconstructive
Practice Location
JEC @ Menteng

JEC @ Cibubur

JEC @ Tambora
About
---
Dr Dyah Tjintya Sarika, SpM is a full-time ophthalmologist at Jakarta Eye Center (JEC) Hospital and Clinic. Dr Tjintya graduated as General Practice (GP) doctor from the Medical Faculty of University Indonesia in 2010, one most reputable Universities in Indonesia. After graduated, She worked as internship GP Doctor at Public Hospital and Local Clinic at Indramayu, West Java for one (1) year. Later, She enrolled at Medical Faculty of University Indonesia to study ophthalmology specialist and graduated in 2017. Throughout ophthalmology study and residency, She strongly attracted in the fields of tumor, plastic, and reconstruction. As such, that's the main reasons why Dr Tjintya is a medical doctor member of the tumor, eye plastic surgery, and reconstruction service at Jakarta Eye Center (JEC) Hospital and Clinic. She also handles other generic and comprehensive ophthalmology, including cataract.
Dr Tjintya took oculoplastic surgery fellowship program at Jakarta Eye Center (JEC) Hospital and continue his fellowship program of lacrimal, orbital and oculoplastic at Aichi Medical University, Nagoya, Japan. She is mentored by Professor Hirohiko Kakizaki and Professor Yasuhiro Takahashi which recognized in the Asia Pacific by the oculoplastic surgeon community.
Dr Tjintya has presented her scientific papers in reputable seminars and congress, both domestic (PIT Perdami Jakarta 2016, PIT Perdami Malang 2017, PIT Perdami Padang 2018 dan PIT Perdami Makassar 2019) and international (APAO Guangzhou 2015 dan APSOPRS 2018) event. On top of this, Dr Tjintya joined in several charity causes in performing cataract surgeries in Greater Jakarta area.
As the rapid growth of technology in oculoplastic surgery nowadays, We wish Dr Tjintya can contribute more and become a valuable member of oculoplastic service at Jakarta Eye Center (JEC) Hospital and Clinic.
Education
---
General Practitioner: Faculty of Medicine, University of Indonesia
Specialist : Faculty of Medicine, University of Indonesia
Fellowship
---
Ophthalmic Plastic and Reconstructive Surgery at Jakarta Eye Center Hospital
Lacrimal, Orbital, Ophthalmic and Reconstructive Surgery at Aichi Medical University Hospital, Nagoya, Japan
Organization
---
Member Of Indonesian Medical Association
Member of Indonesian Ophthalmologist Association
Member of Indonesian Society of Ophthalmic Plastic and Reconstructive Surgery (INASOPRS)
Member of Asia Pacific Society of Ophthalmic Plastic and Reconstructive Surgery (APSOPRS)
Appreciation
---
4th winner of resident poster, Annual Scientific Meeting of Indonesian Ophthalmologist Association- Yogyakarta, Indonesia
1st winner of resident free paper in experimental study category, Annual Scientific Meeting of Indonesian Ophthalmologist Association – Padang, Indonesia
Publications and Research
---
Literature review: Efficacy and Safety of Travoprost/Timolol and Latanoprost/Timolol fixed combinations in Patient with Primary Open Angle Glaucoma (2014)
Descriptive study: Evaluation of Refractive Amblyopia Therapy in

2014 (2015)

Comparison of Adjuvant Intrastromal and Combined with Intracameral Voriconazole in Experimental Aspergillus fumigatus induced Moderate Keratomycosis in Rabbits (2016)

D T Sarika, Y Irawati, D Siswoyo, H Suharko. Clinical Characteristic and surgical outcome of eyelid ptosis at tertiary eye hospital A retrospective study. Eye Sea 2019;14(1): 43-49 (2019)