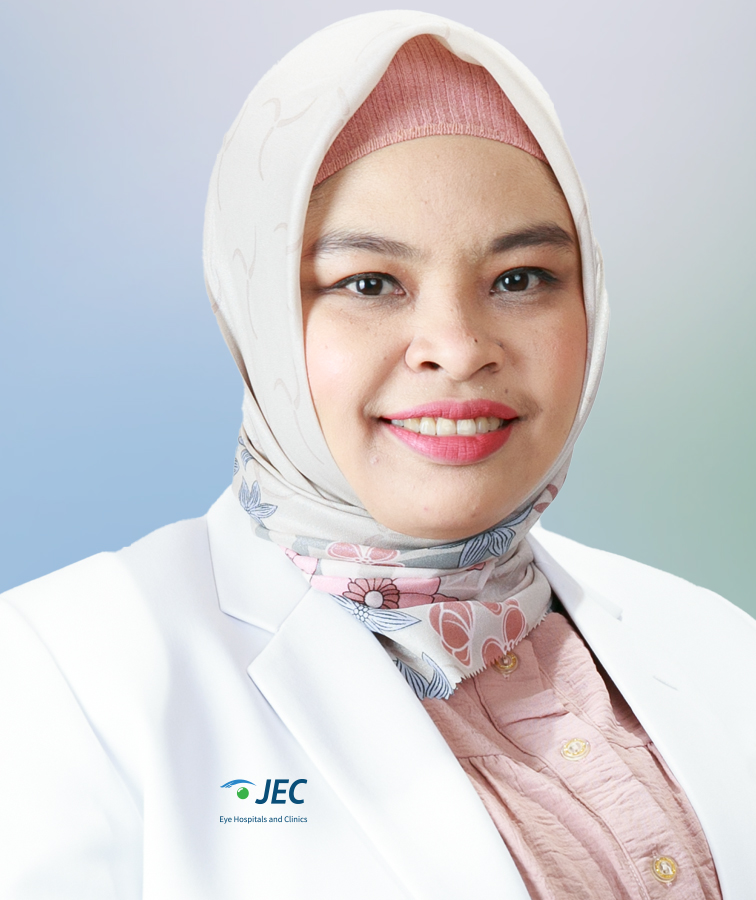 Dr. Delfitri Lutfi, SpM(K)
Sub Specialist
Cataract

Orbital, Oculoplastic, and Reconstructive

Eyelid and Orbital Trauma
Practice Location
About
---
Dr. Delfitri Lutfi, SpM(K) is an ophthalmologist consultant in the division of oculoplastic, reconstruction, and ophthalmic oncology since 2017. She completed her study as a general practitioner in 2005 at Brawijaya University Malang and as an ophthalmologist in 2011 at Airlangga University Surabaya. She has worked at JEC-Java@Surabaya since its inception in 2018. She also worked as a medical and teaching staff in the Department of Ophthalmology, Faculty of Medicine, Airlangga University – Dr. Soetomo Hospital Surabaya since 2011. dr. Delfitri is an active lecturer involved in the education of students of the faculty of medicine and resident ophthalmology at Airlangga University since 2011.
She has experience in the subspecialty of oculoplastic, reconstruction, and ophthalmic oncology. To develop her skills in this field, she participated in fellowship programs. She received ICO Fellowship Award in 2014 and got the opportunity to study at LV Prasad Eye Institute, Hyderabad India. She also participated in the Observership program in ophthalmic oncology at the Cleveland Clinic, Ohio, the USA in 2020.
She is active in attending seminars and training activities in ophthalmology both at home and abroad. Dr. Delfitri was also invited several times as a speaker at regional, national, and international events. She actively conducts research and has publications in several national and international journals. She has also been asked as an international journal reviewer.
Dr. Delfitri has a great interest in the field of ophthalmic oncology and is quite active in community service activities in collaboration with fellow oncology doctors through oncology societies and oncology foundations.
Dr. Delfitri is a member of the Asia Pacific Ophthalmic Trauma Society (APOTS), the Asia Pacific Society of Ophthalmic Plastic and Reconstructive Surgery (APSORPS), and the International College of Surgeons (ICS) Indonesian Section. Currently dr. Delfitri serves as a member of the scientific section division of the Indonesian Society of Ophthalmic Plastic and Reconstructive Surgery (INASOPRS), deputy secretary of the Indonesian Society of Oncology (INASO) Surabaya branch, and P2KB Team of the Indonesian Association of Ophthalmologists (IOA) East Java branch.
Education
---
General Practitioner : Faculty of Medicine Universitas Brawijaya Malang

Ophthalmologist : Faculty of Medicine Universitas Airlangga Surabaya
Fellowship
---
Observership di bidang Onkologi Mata, Cleveland Clinic, Ohio, Amerika Serikat, 2020

ICO Fellowship di bidang Bedah Plastik Mata, Rekonstruksi, dan Onkologi Mata, LV Prasad Eye Institute, Hyderabad, India, 2014

Hands-on trainee in Neuro-Ophthalmology ORBIS Flying Eye Hospital Surabaya, 2012
Organization
---
P2KB Team of the Indonesian Association of Ophthalmologists (IOA) East Java branch

Deputy secretary of the Indonesian Society of Oncology (INASO) Surabaya branch

Coordinator Gugus Penjamin Mutu (GPM) Prodi Spesialis 1 IK. Mata FK Unair / RSDS

Vice Chairman Unit Koordinasi Pendidikan dan Profesi (UKPP) FK Unair Surabaya

Member of International Patient Safety Goals (IPSG) unit, RSUD dr. Soetomo Surabaya
Publications and Research
---
Lutfi D, Prasetiyono P, Loebis R, Suhartono G, Yogiantoro D. "Bilateral Optic Neuritis in Children due to Multiple Sclerosis". In Jurnal Oftalmologi Indonesia. Vol. 7 No. 4 Desember 2010

Soebagjo HD, Lutfi D. Buku Ajar Ilmu Kesehatan Mata Chapter Orbita Onkologi Mata 2013

Soebagjo HD, Fatmariyanti S, Lutfi D. "Effectiveness of Natural Killer (NK) Cells in Peripheral Blood Stem-Cell towards Expression of EZH2, Ki-67 and Apoptosis in Retinoblastoma (RB) Cells Culture". Journal Medicine Science Original Investigation. 2015;4(1):1-17. DOI: 10.5455/med science.2015.04.8256

Lutfi D, Hoesin GH. 'Similarity Between Estimated Probability of Follow-up Visual Acuity Category by Ocular Trauma Score (OTS) with Actual Visual Acuity in Open Globe Injury". Free paper presentation in The 37th Annual Scientific Meeting of Indonesian Ophthalmologist Association. 2012. Surabaya. Indonesia

Lutfi D, Soebagjo HD, Susilo RI. "Optic Nerve Sheath Meningioma, A Challenging in Management." Scientific Poster in NUH Ophthalmic Oncology Symposium. 2013. Singapore

Lutfi D, Soebagjo HD. "Ocular Surface Squamous Neoplasia in Children with Xeroderma Pigmentosum." Scientific Poster in NUH Ophthalmic Oncology Symposium. 2013. Singapore

Lutfi D, Rahayu A, Fatmariyanti S, Soebagjo HD. "Ocular Surface Squamous Neoplasia (OSSN) in Children with Xeroderma Pigmentosum". Scientific Poster in The 40th Annual Scientific Meeting of Indonesian Ophthalmologist Association. 2015. Bandung, Indonesia

HD Soebagjo, Fatmariyanti, Lutfi D. "The Role of p53 Protein Expression in Retinoblastoma". European Journal of Biomedical and Pharmaceutical Sciences 3 (7), 1-7. 2016

Lutfi D. Retinoblastoma, Kenali Binarnya sejak Dini. Majalah Graha Amerta RSUD dr. Soetomo Surabaya. Q-Life Guidance for your Health. 2016

Lutfi D. "Ocular Surface Squamous Neoplasia". Proceeding NUH Eye International Congress 2016, XII ISOT & III APOTS Meeting. 2016

Lutfi D. "Squamous Cell Carcinoma of the Eyelid". The 3rd ASEAN Ophthalmology Society Congress, Jakarta Indonesia. 2017

Lutfi D, Rahayu A, Fatmariyanti S, Soebagjo HD. "A Rare Case of Conjunctival Myxoma". Scientific Poster in The 42nd Annual Scientific Meeting of Indonesian Ophthalmologist Association. 2017. Malang. Indonesia

HD Soebagjo, Fatmariyanti, Lutfi D. "Tata Laksana Intra Orbital Foreign Body (C-Arm Image-Guided Surgery). Proceeding book EJOWS Perdami Jatim. 2017

Lutfi D, Fatmariyanti S, Soebagjo HD. "Unusual Case of Intraocular Medulloepithelioma". Scientific Poster in The 33rd Asia-Pacific Academy of Ophthalmology (APAO) Congress 2018. 2018. Hongkong.

Lutfi D, Fatmariyanti S, Soebagjo HD. "One-stage Orbital Exenterated Socket Reconstruction with Glabellar Flap". Scientific Poster in The 43rd Annual Scientific Meeting of Indonesian Ophthalmologist Association. 2018. Padang. Indonesia

Lutfi D. "A Rare Case of Eyelid Embryonal Rhabdomyosarcoma". Asia-International Society of Ocular Oncology (ISOO) Conference. Shanghai, China. 2018

Lutfi D, Fatmariyanti S, Soebagjo HD. "Successful Treatment of Oral Cimetidine for Recurrent Conjunctival Papilloma". Poster Presentation. NUH Eyelid & Oculofacial Symposium. Singapore. 2019

Komaratih, E., Rindiastuti, Y., Wirohadidjojo, Y.W., Lutfi D, Ertanti, N., Prakoeswa, C.R.S. "A comparative study on the therapeutic potential of ocular and non-ocular stem cell secretome on alkali induced limbal stem cell niche damage". Biochemical and Cellular Archives, 2019, pp. 4825–4832

Fabian, I.D., Abdallah, E., Abdullahi, S.U., ...Zondervan, M., Bowman, R. Global Retinoblastoma Research Group. "Global Retinoblastoma Presentation and Analysis by National Income Level". JAMA Oncology, 2020, 6(5), pp. 685–695

Lestari, N.M.I., Fatmariyanti, S., Soebagjo, H.D., Kurniati, N.D., Lutfi, D. "Orbital cellulitis in pulmonary tuberculosis: A case report". African Journal of Infectious Diseases, 2020, 14(2), pp. 48–52