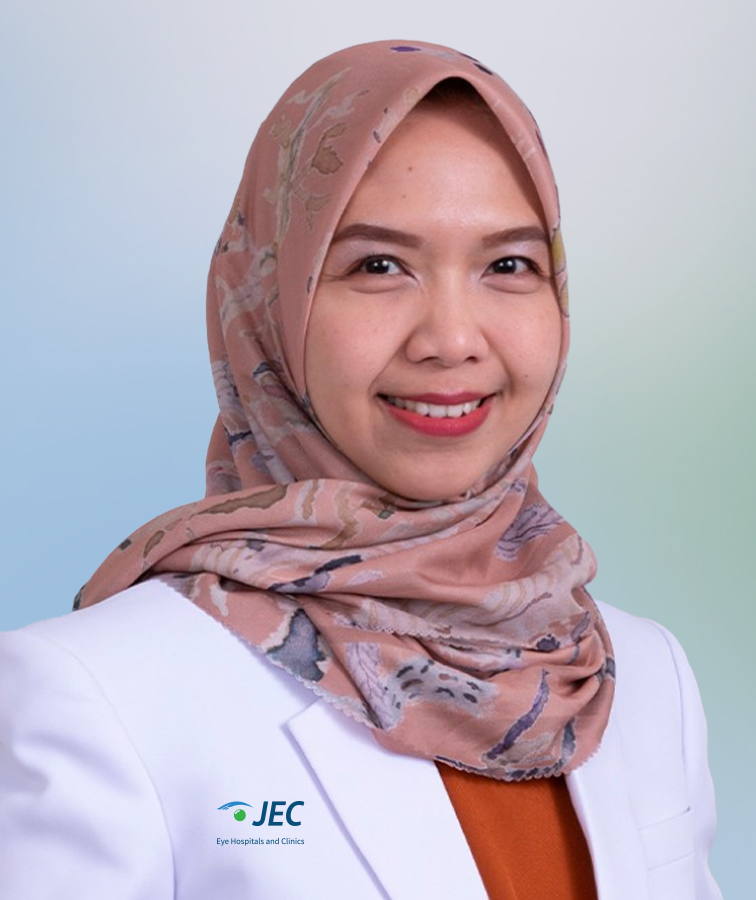 Dr. Arnila Novitasari Saubig, SpM(K)
Sub Specialist
Cataract

Pediatric Ophthalmology And Strabismus
Practice Location
Candi Eye Center, Semarang

JEC-CANDI @ Semarang
About
---
Arnila Novitasari Saubig, MD is an ophthalmogist at Candi Eye Center and she also a lecturer in Pediatric Ophthalmology and Strabismus division anf Faculty of medicine, Universitas Diponegoro. She received her medical doctor degree from Faculty of Medicine, Universitas Diponegoro and she finished ophthalmology training at the same university. Following her passion towards pediatric ophthalmology and strabismus, she took fellowship in Cicendo Hospital Bandung. She also participates in courses and seminars focusing on pediatric ophthalmology and strabismus.
Dr. Nila believes that clinical practice, knowledge and research are inseperable. She has great passion and interest towards ophthalmological research. She presented several case reports, review and original research papers in both national and international symposiums.
Her areas practice include general ophthalmology, cataract, pediatric ophthalmology and strabismus. In her clinical practice, Dr. Nila performs various diagnostic testing and treatment options for pediatric ophthalmology and strabismus. Dr. Nila encourages that children eye care is very important, because our children are the next generation who determine the future of Indonesia.
Education
---
Faculty of Medicine, University of Diponegoro
Fellowship
---
Pediatric Ophthalmology and Strabismus, Cicendo Hospital Bandung
Organization
---
Member Indonesian Ophthalmologist Association (PERDAMI)
Member of Indonesian Assocation Pediatric Ophthalmology and Strabismus Society (INAPOSS)
Member of The World Society of PaediatricOphthalmology and Stabismus (WSPOS)
Appreciation
---
Faculty of Medicine, University of Diponegoro
Publications and Research
---