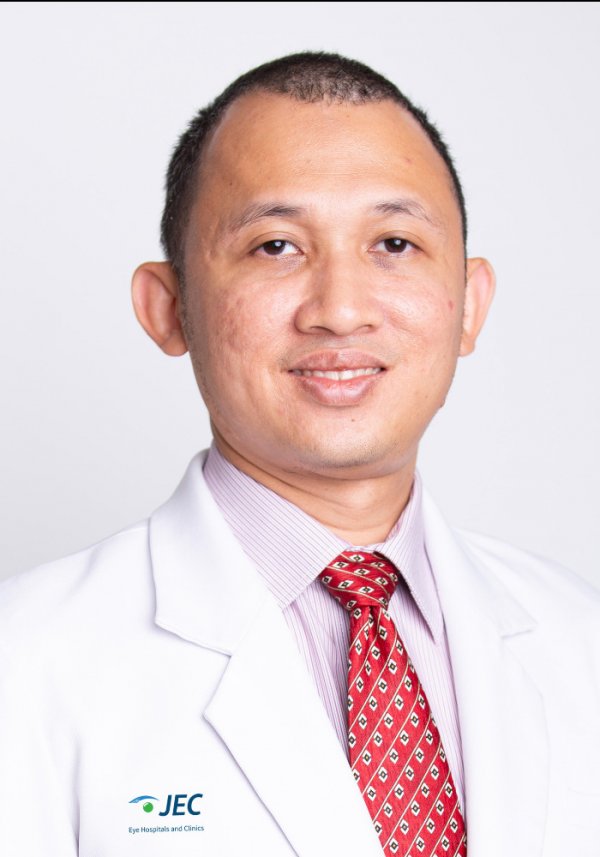 Dr. Zeiras Eka Djamal, SpM(K)
Specialities
Glaucoma
Cataract
Specialities
Glaucoma, Cataract
About
Zeiras Eka Djamal, MD, graduated from University of Indonesia, and then continued to study Ophthalmology in the same Institution. He later worked as a General Ophthalmologist and often participated in Cataract Surgery Charity programs in town. He applied for Glaucoma Fellowship program at JEC and then continued working here as an ophthalmologist and a part of the glaucoma service team.
To widen and expand his knowledge, he became a Glaucoma Fellow at Singapore National Eye Center for one year before returning back to JEC. He has done countless glaucoma surgeries and laser interventions, including trabeculectomy surgery, glaucoma implant surgery, selective laser trabeculoplasty, laser peripheral iridotomy, and many more. He also practices on cataract surgery and other general ophthalmology cases. Therefore, he is one of the best ophthalmologists that JEC has in order to give the best to the community due to JEC's commitment, to give a better vision.
Education
Faculty of Medicine, University of Indonesia
Fellowship
Glaucoma at JEC Eye Hospital

Glaucoma at Singapore National Eye Hospital
Organization
Member of Indonesian Ophthalmologist Association [IOA]
Member of Indonesian Medical Association [IMA]
Member of Indonesia Glaucoma Society (IGS)
Member of Asia Pacific Glaucoma Society [APGS]
Appreciation
Faculty of Medicine, University of Indonesia
Schedule
Location
Mon
Tue
Wed
Thu
Fri
Sat
Sun
JEC @ Menteng
-

09:00-13:00

09:00-16:00

-
-
-
-
JEC @ Kedoya

09:00-16:00

-
-
-

14:00-17:00

09:00-15:30

09:00-14:30

-
JEC @ Cinere
-

14:00-18:00

-

09:00-13:00

09:00-13:00

-
-
Want to know more information about JEC?
Be the first to know about JEC by subscribe to our newsletter.