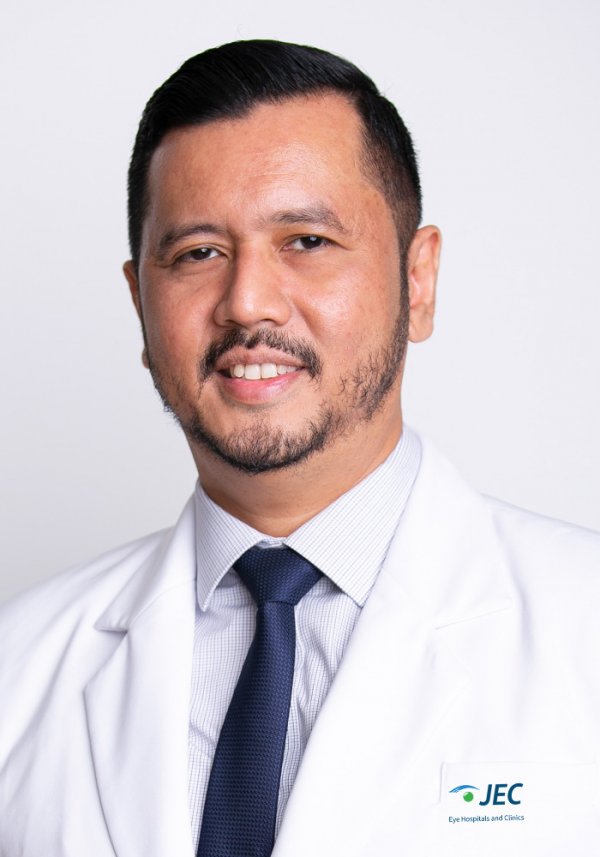 Dr. Ferdiriva Hamzah, SpM(K)
Specialities
Vitreoretina
LASIK
Cataract
Specialities
Vitreoretina, LASIK, Cataract
About
Ferdiriva Hamzah, MD, a full-time Ophthalmologist at JEC Eye Hospital, graduated in 2002 from a medical school in Medan. He continued his study as an Ophthalmologist at University of Indonesia. After that, he joined training in India and became a cataract and LASIK surgeon, including LASIK with microkeratome, Femtosecond LASIK, and Epi-LASIK since 2008. He is often invited to be a guest speaker for health-themed events on mass and digital media, realizing that he is one of the bests in his field of ophthalmologist.
His education continues as a vitreoretina sub-specialist, for both medical and surgical, and also macular diseases in Tokyo, Japan. He is also involved in teaching and training the nurses of ophthalmology at JEC Eye Hospital.
Education
Faculty of Medicine, Islamic University of North Sumatera
Fellowship
Vitreoretinal Fellowship, JEC Eye Hospital

LASIK and Cataract training, New Vision Laser Center, Vadodara, India

Longterm Vitreoretinal Fellowship, Nihon University Hospital, Tokyo, Japan
Organization
Member of Indonesian Medical Association [IMA] – IDI
Member of Indonesian Ophthalmologist Association [IOA] – PERDAMI
Appreciation
Faculty of Medicine, University of Indonesia
Schedule
Location
Mon
Tue
Wed
Thu
Fri
Sat
Sun
JEC @ Menteng

09:00-14:00

09:00-12:00

-
-

09:00-16:00

09:00-12:00

-

14:00-16:00

17:00-20:00

-
JEC @ Kedoya
-
-

09:00-12:00

-

09:00-12:00

-
-
JEC-Primasana @ Tj. Priok
-

08:00-12:00

08:00-11:00

-
-
-
-
-
Want to know more information about JEC?
Be the first to know about JEC by subscribe to our newsletter.