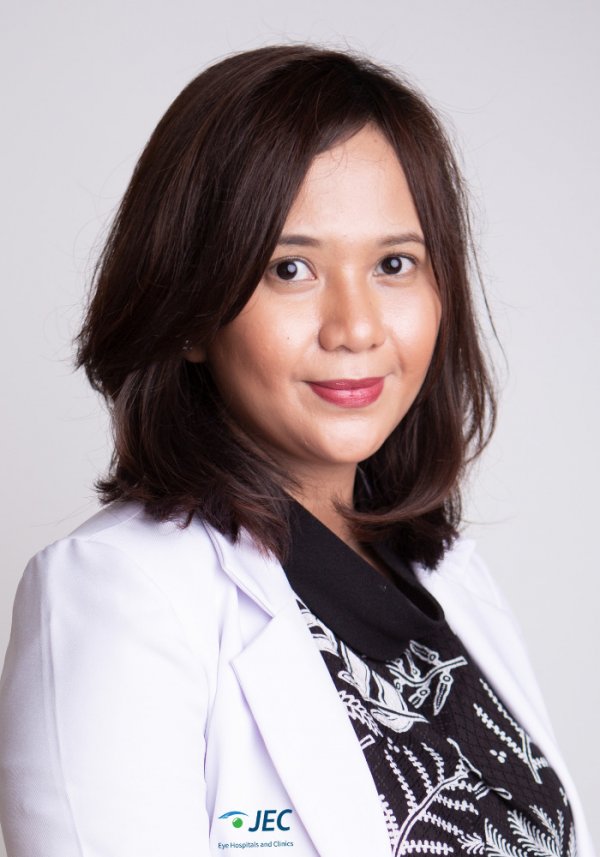 Dr. Emma Rusmayani, SpM(K)
Specialities
Glaucoma
LASIK
Cataract
Specialities
Glaucoma, LASIK, Cataract
About
Emma Rusmayani MD, graduated medical doctor from the University of Indonesia and completed her residency in ophthalmology in Cipto Mangunkusumo National Hospital Jakarta. During residency, she became increasingly interested in glaucoma and wrote several paper and study about the subject. She then completed glaucoma fellowship in Jakarta Eye Center in 2012. In 2013 she attended glaucoma fellowship in Oogziekenhuis, Rotterdam Eye Hospital, supervised directly by Professor Hans Lemij (renowned international glaucoma expert, President of Dutch Glaucoma Group). She also participated in many charity cataract surgeries in Jakarta and all around Indonesia since 2012 until now. Currently she practices at Jakarta Eye Center as part of the glaucoma service team. Her clinical skills include trabeculectomy, glaucoma implant, laser for glaucoma, cataract surgery, and general ophthalmology. She is actively involved in teaching nurses and medical workers at Jakarta Eye Center.
Education
Faculty of Medicine, University of Indonesia
Fellowship
Glaucoma Jakarta Eye Center

Glaucoma Oogziekenhuis Rotterdam Eye Hospital Netherland
Organization
Indonesian Ophthalmologist Association [IOA], Indonesian Medical Association [IMA]
Appreciation
Ophthalmology, University of Indonesia
Schedule
Location
Mon
Tue
Wed
Thu
Fri
Sat
Sun
JEC @ Menteng
-
-
-
-

09:00-16:00

-
-
JEC @ Kedoya
-

09:00-15:00

-
-
-

09:00-15:00

09:30-13:00

-
JEC @ Cibubur

09:00-12:00

-

09:00-12:00

13:00-16:00

09:00-12:00

14:00-17:00

-
-
-
Want to know more information about JEC?
Be the first to know about JEC by subscribe to our newsletter.