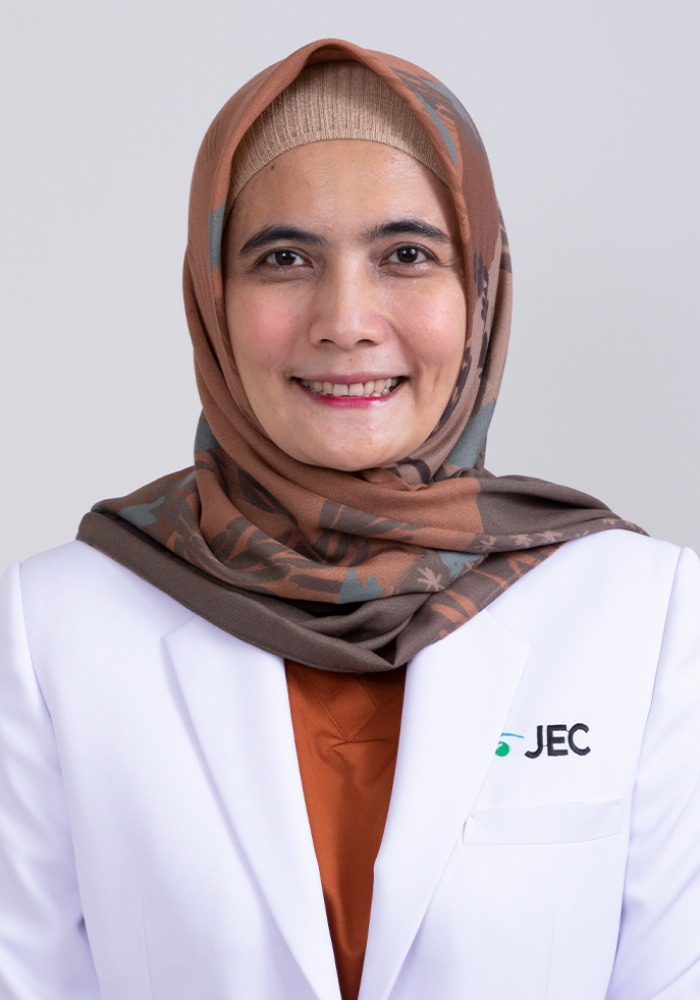 Dr. Liana Ekowati, Msi. Med., SpM(K)
Specialities
Pediatric Ophthalmology And Strabismus
LASIK
Cataract
Specialities
Pediatric Ophthalmology And Strabismus, LASIK, Cataract
About
Liana Ekowati, MD is an ophthalmologist at Candi Eye Center. She received her medical doctor degree from Faculty of Medicine, DiponegoroUniversity in 2004. She finished ophthalmology specialist at the same university in 2009 and finished Master sainsof Medical at 2012. Following her passion towards strabismus and paediatricophthalmology, she took fellowship in this field at Cicendo Hospital, Bandungunder supervision one of best strabismus and paediatricophthalmologist in Indonesia, FetiKarfiaty, MD. She also participates in courses and seminars focusing on strabismus and paediatric-ophthalmology.
Dr. Liana believes that clinical practice, knowledge, and research are inseparable. She has great passion and interest towards ophthalmological research. She presented several case reports, review, and original research papers in both national and international symposiums.
Her areas of practice include general ophthalmology, cataract, strabismus and paediatric-ophthalmology.Dr Liana as strabismus and paediatric-ophthalmologist has additional training and has greatest knowledge of possible conditions that affect the pediatric patient and his or her eyes. Shepromote the science and art of pediatric eye care to improve the visual health of children. Children are susceptible to all diseases that occurs in adults. She also deal with treatment of amblyopia, strabismus, double vision, and other ocular motility disordres in children and adults. If problem in strabismus and children eyes are diagnosed and treated early, good vision can develop and can be maintained.
Education
Faculty of Medicine, Diponegoro University
Fellowship
Strabismus and PaediatricOphthalmology, Cicendo Ophthalmic Training Center, Cicendo Hospital, Bandung
Course:
Basic Phacoemulsification Course, Singapore National Eye Center, Singapore

Hands On Course Visual Evoked Potential (VEP) and Electroretinogram (ERG), Roland Consult, Berlin, Germany
Organization
Member of Indonesian Ophthalmology Association (PERDAMI)
Member of Indonesian Medical Association (IDI)
Member of Indonesian PaediatricOphthalmology and Strabismus Society (INAPOSS)
Member of Asia Pacific Strabismus and Paediatric Ophthalmology Society (APSPOS)
Member of World Strabismus and Paediatric Ophthalmology Society (WSPOS)
Appreciation
Faculty of Medicine, Diponegoro University
Schedule
| | | | | | | | |
| --- | --- | --- | --- | --- | --- | --- | --- |
| Location | Mon | Tue | Wed | Thu | Fri | Sat | Sun |
| JEC@SEMARANG | 16:00 - 19:30 | | | 15:00 - 18:00 | 16:00 - 19:30 | 08:30 - 12:00 | |
| JEC@CANDI | | 16:00 - 19:30 | | | | 08:30 - 12:00 | |
Want to know more information about JEC?
Be the first to know about JEC by subscribe to our newsletter.