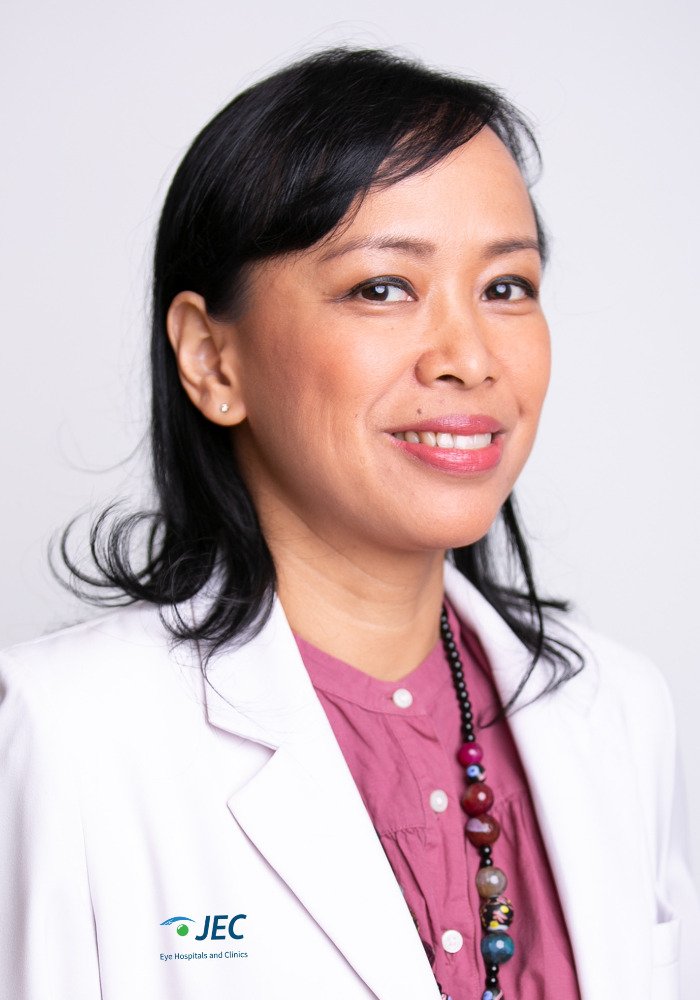 Dr. Florence M. Manurung, SpM(K)
Specialities
Retinopathy of Prematurity
Pediatric Ophthalmology And Strabismus
LASIK
Cataract
Specialities
Retinopathy of Prematurity, Pediatric Ophthalmology And Strabismus, LASIK, Cataract
About
Florence M. Manurung, MD is a Pediatric and Strabismus Ophthalmologist at JEC Eye Hospital. She is also a member of doctors in Children Eye & Squint Clinic (CES Clinic) JEC @ Kedoya, a comprehensive eye care center for babies, children, and special needs.
To expand her skills and knowledge, she took her fellowship in Pediatric and Strabismus Ophthalmology at Aditya Joyt Eye Hospital and Jyotirmay Eye Clinic, Mumbai, India, with Dr. Mihir Kothari who is well known in performing adjustable suture for strabismus cases. She underwent further short-term fellowship program in the management of Retinopathy of Prematurity (ROP) and Pediatric Retinal Disease with Dr. Subadhra Jalali at L.V. Prasad Eye Institute, Hyderabad, India. These fellowships make her become a skilled-professional ophthalmologist.
Education
Faculty of Medicine, Christian University of Indonesia
Fellowship
Phacoemulsification Dr Agarwal Eye Hospital, Chennai, India

Pediatric Ophthalmology & Strabismus Aditya Jyot Eye Hospital and Jyotirmay Eye Clinic, Mumbai, India

Retinopathy of Prematurity and Retinal Eye Diseases in Children, LVPEI, Hyderabad, India
Organization
Member of Indonesian Ophthalmologist Association [IOA] – PERDAMI
Member of Indonesian Society of Cataract and Refractive Surgery [INASCRS}
Member of Indonesian Medical Association [IMA] – IDI
Member of Asia-Pacific Association of Cataract and Refractive Surgeon [APACRS]
Member of American Association for Pediatric Ophthalmology and Strabismus [AAPOS]
Appreciation
Faculty of Medicine, Univercity of Indonesia
Schedule
Location
Mon
Tue
Wed
Thu
Fri
Sat
Sun
JEC@PRIMASANA

14:00 - 16:00

JEC@KEDOYA

10:00 - 12:00

13:00 - 16:45

10:30 - 12:08

13:00 - 16:30

09:00 - 15:30

JEC@MENTENG

09:00 - 12:00

09:00 - 13:00

08:00 - 13:00
Want to know more information about JEC?
Be the first to know about JEC by subscribe to our newsletter.